By Mark Preston
CNN Political Editor
WASHINGTON (CNN) -- John McCain and George Bush have a lot in common, but these two Republicans have also had some high profile differences, and McCain's presidential campaign is more than willing to point them out.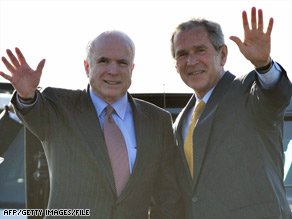 John McCain's campaign wants voters to know that he and President Bush are very different people.
From climate change to his first calls for a surge of U.S. troops into Iraq, McCain has not always seen eye to eye with President Bush or, for that matter, other GOP leaders on issues of policy for the better part of the past decade.
His open defiance of the Republican establishment has helped to bolster his image as a "maverick" lawmaker willing to shun party loyalty and obedience for personal principle.
And seeing that this election is likely to be won by the candidate who successfully attracts the most support of uncommitted independents, expect to hear more about the McCain and Bush differences in the coming months.
"We feel like that is a record that must be given attention every time Barack Obama falsely accuses John McCain of running for George Bush's third term," said Nicolle Wallace, a veteran Bush operative who joined Team McCain in May. "There is no truth to that."
Wallace is one of a handful of political strategists who has worked inside both the McCain and Bush bubbles (Steve Schmidt, McCain's campaign manager, being another), which gives her a unique perspective on the two Republican leaders.
While she emphasized that both are "hardworking men," she also added that "they are totally different people." One such difference is McCain's insistence on being in the middle of the media scrum, a setting that Bush did not often enter.
"John McCain has a decades' long reputation of really demanding to be in very close contact with the media," Wallace said in a recent interview.
"And it's his hallmark. He has made jokes over the years that they're his base. And when you look at it from afar, it is an interesting difference between President Bush and John McCain. I understand the reason now that I have done a little bit of traveling with [McCain]. He views it as the vehicle by which he can speak directly to the American people."
Don't Miss
With presumptive Democratic presidential nominee Obama expected to raise between three and four times more money than McCain, who will accept $85 million in public financing, the presumptive GOP nominee may need all the free media he can get.
While Obama will be able to air more political ads in more states and finance a bigger campaign operation, McCain will seek to hammer home his message in small settings with reporters on his campaign plane and bus or the town halls and public appearances he has scheduled from now until November.
Expect many of McCain's campaign events to take place in the economically struggling but electoral-rich states such as Michigan, Pennsylvania and Ohio.
Meanwhile, Wallace scoffs at Obama's declaration to use his fundraising advantage to run a 50-state campaign, describing it as nothing more than political showmanship.

Watch what the McCain camp thinks of Obama's 50-state strategy »
Wallace is one of a handful of experienced operatives brought into the McCain campaign in recent months after the Arizona senator defied long odds to capture the GOP nomination despite being outspent by his competitors. McCain, who started out as a frontrunner only to see his operation implode and then resurrect, is transitioning into a new phase of his campaign: the stretch run.
After presumptively winning the nomination in March, McCain's campaign was broke and exhausted and advisers knew he would likely face a financial disadvantage no matter who won the Democratic nomination. The Arizona senator embarked on a fundraising tour and sought the help of his former rivals as well as Bush to help him stock his war chest.
Despite a protracted nomination fight between Hillary Clinton and Obama that carried into June, McCain failed to move up in the polls and he came under criticism for not using the time between March and June more effectively.
Now as the race for the White House turns into the stretch run, McCain's operation has recalibrated. Schmidt is now running the campaign and Mike DuHaime, a former Republican National Committee political director who managed Rudy Giuliani's presidential campaign, joins Wallace as another veteran hand on Team McCain.
"I think we are going to enter a phase ... where you will see our message get a lot more crisp, our events get a lot more consistent," Wallace said. "You will see our town halls hopefully in the early parts of the day. We'll continue to raise money and we will be speaking directly to the American people."
And, of course, McCain will take the time to speak directly to the scrum of reporters on his bus and plane, who he hopes will help him amplify his message in the closing months of the campaign.
E-mail to a friend

All About George W. Bush • John McCain