(CNN) -- Shortly after Barack Obama laid out his foreign policy vision in Washington on Tuesday, presumptive Republican presidential nominee John McCain criticized his proposals as naive and premature.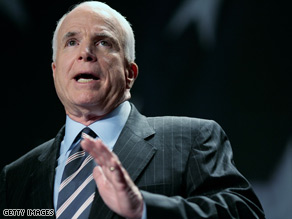 John McCain blasted Obama for laying out his strategy in Iraq before speaking with those on the ground.
McCain attacked the Illinois senator's opposition to the surge policy in Iraq and highlighted his own proposal for victory in Afghanistan.
"[Obama] is speaking today about his plans for Iraq and Afghanistan before he has even left, before he has talked to Gen. Petraeus, before he has seen the progress in Iraq and before he has set foot in Afghanistan for the first time," McCain said at a campaign event in New Mexico.
"In my experience, fact-finding missions usually work best the other way around: First, you assess the facts on the ground; then you present a new strategy."

Watch McCain criticize Obama »
The foreign policy speech, originally intended for later in the week, was delivered at an Albuquerque town hall meeting that had been set up to promote McCain's economic plan.
Obama is to travel to Iraq this month as part of a congressional delegation that will include Republican Sen. Chuck Hagel of Nebraska and Democratic Sen. Jack Reed of Rhode Island, both of whom have been mentioned as possible running mates for the presumptive Democratic nominee.
At his foreign policy speech Tuesday morning, Obama attacked McCain's position on the state of the conflict. Read about Obama's plans for Iraq, Afghanistan
"Sen. McCain said -- just months ago -- that 'Afghanistan is not in trouble because of our diversion to Iraq.' I could not disagree more," he said. "Our troops and our NATO allies are performing heroically in Afghanistan, but I have argued for years that we lack the resources to finish the job because of our commitment to Iraq."

Watch Obama's criticism of McCain »
McCain fired back roughly an hour later.
"Sen. Obama will tell you we can't win in Afghanistan without losing in Iraq. In fact, he has it exactly backwards. It is precisely the success of the surge in Iraq that shows us the way to succeed in Afghanistan," he said. "It is by applying the tried and true principles of counter-insurgency used in the surge -- which Sen. Obama opposed -- that we will win in Afghanistan. With the right strategy and the right forces, we can succeed in both Iraq and Afghanistan.
"I know how to win wars. And if I'm elected president, I will turn around the war in Afghanistan, just as we have turned around the war in Iraq, with a comprehensive strategy for victory." Read where the candidates stand on Iraq
McCain's Afghanistan proposal includes the addition of brigades, the launch of an integrated nationwide security plan for the civilian population, greater military engagement of Taliban forces and unity of command, a doubling of the size of the Afghan army, a boost in civilian-military engagement, and the appointment of an "Afghanistan czar" -- a White House-based national security official, reporting to the president, whose task would be to bring the war to an end.

Watch McCain explain his plan for Afghanistan »
In his remarks Tuesday, he also stressed nonmilitary assistance to the Afghan government and economy, and the promotion of alternative crops as a way to end drug trafficking in the region.
McCain added that special attention must be paid to Pakistan, "where terrorists today enjoy sanctuary." He called for the strengthening of local tribes that are willing to fight terrorists there, as well as greater nonmilitary assistance to the civilian government.
"Sen. Obama has spoken in public about taking unilateral military action in Pakistan. In trying to sound tough, he has made it harder for the people whose support we most need to provide it," McCain said.
E-mail to a friend

All About Iraq War • Barack Obama • John McCain