From Charley Keyes
CNN State Department Producer
WASHINGTON (CNN) -- On the eve of one of her top diplomats' meeting with an Iranian official, Secretary of State Condoleezza Rice said the United States is sticking to its policy that Iran must suspend its nuclear program before negotiations can proceed.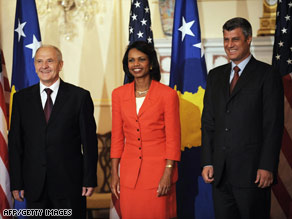 Condoleezza Rice meets with Kosovo President Fatmir Sejdiu, left, and Prime Minister Hashim Thaci.
She said the meeting that Undersecretary William Burns will join Saturday in Geneva, Switzerland, with European officials and Iran's chief nuclear negotiator, Saeed Jalili, is "in fact a strong signal to the entire world that we have been very serious about this diplomacy and we will remain very serious about this diplomacy."
But, Rice said, "it should be very clear to everyone the United States has a condition for the beginning of negotiations with Iran and that condition remains the verifiable suspension of Iran's enrichment and reprocessing activities.
"Iran is a difficult and dangerous state, and it is a state that is pursuing policies that are dangerous to our friends and dangerous to international peace and stability, particularly its support for terrorism and its pursuit of this nuclear technology that could lead to a nuclear weapon," she said. "But we have been very clear that any country can change course. The United States doesn't have any permanent enemies."

Watch Rice discuss Iran with CNN's Wolf Blitzer »
Iran says its nuclear program is strictly to produce energy and defends its right to proceed with enrichment.
Rice expected to meet with North Korea counterpart
Unlike Iran, the U.S. has engaged in diplomatic negotiations with North Korea over its nuclear program, and Rice may embark on a new relationship next week if she meets with her North Korean counterpart in Singapore.
North Korea has agreed to dismantle its nuclear program and recently destroyed the cooling tower at its nuclear facility at Yongbyon.
Rice is expected to meet North Korean Foreign Minister Pak Ui Chun on the sidelines of the Association of Southeast Asian Nations, or ASEAN, summit.
"I can't speak exactly to what the interaction and interplay might be among all the different ministers," State Department spokesman Sean McCormack said. McCormack said he anticipated what he called an informal ministerial meeting.
McCormack declined to say whether the decision to sit down with North Korea and Iran signaled a new Bush administration willingness to reach out to U.S. foes. He said meetings with the North Koreans and Iranians had been conducted previously, although at a lower level.
"We take these decisions because we think they are effective in moving diplomacy forward," McCormack added. "What I would read it as is the United States is looking for opportunities to advance diplomacy, to push advantages where they see them and furthering our national interests."
Rice predicts 'bright future' for Kosovo
On Friday, Rice also addressed another diplomatic hot spot, Kosovo, pledging ongoing support for the newly minted nation as its leaders visited Washington for the first time as elected officials.
Kosovo declared independence from Serbia in February, prompting violent protests.
"The people of Kosovo have a long road ahead to build their multi-ethnic democracy, but if the first few months are any indication, they have the will and the dedication and the commitment and the skill to do so," Rice said.
"And as they do so, they will have a strong friend in the United States of America. I think the future of Kosovo will be very bright."
Rice said she was swearing in the first U.S. ambassador to Kosovo, Tina Kaidanow, on Friday afternoon.
Kosovo President Fatmir Sejdiu, who made the trip with Prime Minister Hashim Thaci, expressed his country's gratitude.
"This is a historic occasion," he said, adding that the goal of the Kosovo government is to create a "country of peace and stability."
Kosovo's declaration of independence caused the collapse of Serbia's fragile ruling coalition and a political stalemate between pro-European Union and nationalist groups. For many Serbs, the idea of forging closer links with Western powers that supported Kosovo's breakaway amounted to treachery.
Serbia still considers Kosovo a province and has refused to recognize its self-declared status.
Rice said that more than 40 countries, including more than two-thirds of the EU and NATO and a majority of U.N. Security Council members, have recognized the new state.
Russia, Serbia and China have not recognized Kosovo's declaration of independence.
Spain has expressed concern that the recognition will give momentum to secessionist movements in other countries, such as the Basques in northern Spain.
E-mail to a friend

All About Condoleezza Rice • Iran • Kosovo • North Korea