From Elise Labott
CNN State Department Producer
WASHINGTON (CNN) -- Secretary of State Condoleezza Rice told U.S. embassies overseas that they can support visits by presidential candidates Barack Obama and John McCain, but they must adhere to certain restrictions.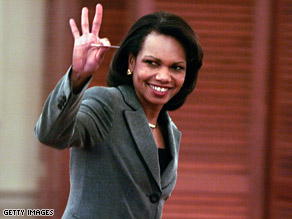 Condoleezza Rice sent out guidance to overseas embassies on the eve of Barack Obama's trip abroad.
Rice sent out guidance on those restrictions on the eve of Barack Obama's trip to Afghanistan, the Middle East and Europe.
A cable sent to all posts worldwide reminds diplomats to treat the senators as "members of Congress visiting in personal or semi-personal capacities," but "with additional restrictions based on rules related to political activity" and White House policy on contact with political campaigns.
The legal restrictions fall under the 1939 Hatch Act, which prohibits federal employees from engaging in partisan political activity.
"It is imperative that, in implementing these various requirements, we treat both major presidential candidates evenhandedly," Rice's message said.
U.S. embassies are typically actively involved in official visits by members Congress and other senior government officials, including greeting them at the airport, arranging and attending meetings with foreign governments and hosting public events.
But the cable forbids diplomats to "hold or arrange receptions or public events for the candidate," to "arrange the candidate's meetings" or to "use official funds and resources, beyond a de minimis level, to support a political trip."
She also instructed diplomats to provide minimal assistance with logistical arrangements. For example, the cable says, "If the campaign staff wants to rent a bus for press, tell them where they can rent a bus."
Rice also banned embassies from providing and paying for transportation "unless security considerations require otherwise."
But Rice acknowledged interaction with the candidates needs "to be made in the context that they are also sitting U.S. senators and very important U.S. visitors with special security concerns." She instructed diplomats to support the candidates' secret service details.
Rice also permitted diplomats to brief the candidates as they would other senators and attend their meetings with foreign government officials if the candidates allow it.
Obama traveled to Iraq and Afghanistan with Sens. Chuck Hagel, a Nebraska Republican, and Jack Reed, a Rhode Island Democrat. However, his other stops in Jordan, Israel, Germany, France and Britain are not considered part of that official congressional delegation.
Gonzo Gallegos, a State Department spokesman, said Monday that the State Department sent a cable four months ago to the countries that McCain was visiting, reminding them about the rules and regulations for support on a visit by a presidential candidate. He said it had "pretty much the same" information as the latest cable.
Gallegos said the new cable was sent out to all posts in response to numerous questions and concerns from diplomats overseas about the candidate trips.
E-mail to a friend

All About Condoleezza Rice • Barack Obama • John McCain