BERLIN, Germany (CNN) -- America's allies in Europe are crucial to the success of anti-terror efforts in Afghanistan and Iraq and in helping solve economic problems at home, Sen. Barack Obama told CNN on Friday.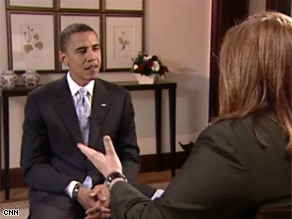 Sen. Barack Obama talks to CNN's Candy Crowley about his overseas trip.
"Part of getting that right is having the Europeans engaged and involved in this same battle that we're involved with," the presumptive Democratic presidential nominee told CNN's Candy Crowley on Friday in Berlin, Germany, where he had addressed a crowd estimated at 200,000 a day earlier.
Asked what message his traveling abroad three months before the election sent to Americans, Obama said getting commitments from the United States' partners would help address some of the domestic issues Americans are facing.
"If we have more NATO troops in Afghanistan, then that's potentially fewer American troops over the long term," he said, "which means we're spending fewer billions of dollars, which means we can invest those billions of dollars in making sure we're providing tax cuts to middle-class families who are struggling with higher gas prices ... that will have an impact on our economy."

Watch Obama explain why he's in Berlin three months before the election »
Obama was asked about criticism by the campaign of his Republican rival, Sen. John McCain, that the Berlin speech was a "premature victory lap."
"I'll leave it up to the pundits to theorize on that," Obama responded. "I would point out that John McCain, after he won the nomination, met with all the leaders that I am meeting with, that he has made speeches in Colombia and Canada and Mexico. ...
"I would be hard pressed to find a big difference between what I've done over the last week and what John McCain has been doing since he won the nomination."
Don't Miss
"Just you got more attention?" Crowley asked.
"I did," Obama replied with a smile.
Obama left for Paris later Friday for a visit with French President Nicolas Sarkozy. The Illinois Democrat is in the middle of a multi-nation tour in an effort to boost his foreign policy credentials.
Obama, accompanied by fellow Sens. Jack Reed, D-Rhode Island, and Chuck Hagel, R-Nebraska, has visited Afghanistan, Kuwait, Iraq, Jordan, Israel and the West Bank, and Germany. He will visit Great Britain after his meeting with Sarkozy.
The meetings are meant "to send the message that Americans want to partner with these countries in order for us to be successful, and also to relieve some of the burden on our fighting men and women in Afghanistan and Iraq," Obama said.
Asked if he saw his trip as some sort of rebuke against President Bush's foreign policy, Obama said that was not his intention.
"That is not my job on this trip. I think that, if you look at how we've tried to conduct this trip, that I have tried to abide by a rule that has been historically, I think, very important -- which is that whatever political differences we have, we have one government at a time, and that when public officials like myself, who are not the president, travel overseas, that we are not in the business of spending all our time second-guessing our president," he said.
• On criticism that he didn't spend enough time observing the situation of Palestinians:
"Obviously you make some judgments in terms of where you are going to allocate the day. But I don't think, if you look at my statements and my positions when it comes to Israeli and Palestinian peace talks, that I could be more clear about the belief that the Palestinian people are suffering -- partly because of the failures of their government to provide leadership for them.
"And that one of the reasons that we need to bring about this kind of lasting peace is so that Palestinians can have economic opportunity, send their kids to school -- enjoy the sort of prosperity that I think is so important for them as well as the Israelis."
• On Israel allowing new home construction in the West Bank:
"The Israelis, sitting down with the Palestinians in Annapolis and in previous agreements, have recognized that these settlements are not helpful. And I think it is important for the Israelis to abide by their commitments when it comes to settlements, in the same way that the Palestinians abide by their commitments for cracking down on terrorists in the West Bank. ... The key is for both parties to do what they say and build trust and confidence so they can move forward.
• On why his trip didn't include a visit to a mosque:
"We have jammed about as much as we could have in a week, but in terms of our Muslim outreach back in America, in terms of my consistent message, it's always been that I have the deepest respect for the Muslim community.
"One of the things I want to do in my first year in office is convene a summit of Muslim countries, so that some of the suspicions and mistrust that has developed between the United States and the Muslim world can be broken down. We're going to need the help of all people of goodwill -- especially Muslims of goodwill -- if we are going to solve some of these problems."
E-mail to a friend

All About Germany • NATO • Iraq • Afghanistan