From Alexander Mooney
CNN

WASHINGTON (CNN) -- The vice presidential buzz is circling around Gov. Tim Kaine, but the Virginia Democrat refused to address the speculation Tuesday.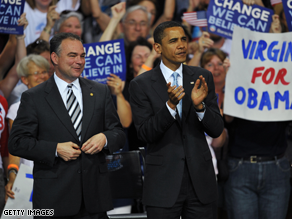 Gov. Tim Kaine hails from a state the Obama campaign hopes to snatch from Republicans this cycle.
"What I said about this is that I have been on board with the campaign since February 2007, but I don't talk about my conversations with the campaign," the first-term governor told Washington radio station WTOP. "You know I save my advice, thoughts, etc., for those conversations, and I don't really share them."
At a news conference after the interview, Kaine said he is not seeking the vice presidential slot.
"I haven't sought it, I'm not running for it, I'm not asking for it. I never asked anything of the campaign. I didn't endorse him to get anything. I endorsed him to help him," he said.
Kaine, who hails from an increasingly purple state the Obama campaign hopes to snatch from Republicans this cycle, has long been considered a top vice presidential prospect. But speculation increased Monday night after both The Washington Post and Politico.com reported Kaine is on top of the Illinois senator's vice presidential short list.

Watch more on the vice presidential guessing game »
According to The Washington Post, Kaine has told his close advisers he has had "very serious" conversations with the Obama campaign about the position and is eagerly jockeying for it.
But speaking to WTOP on Tuesday, Kaine said he did not endorse Obama to "get appointed to anything."
"It's flattering to be mentioned, my mom loves it, she calls me, she sees it," he said. "But that's for the campaign to decide. The campaign has made very good decisions thus far. And I think, however they decide, they are going to make a very good decision about Sen. Obama's running mate." Interactive: Who is in the running to be VP?
Political observers have noted Kaine would bring several advantages to the Democratic ticket. In addition to hailing from a conservative to moderate state, he has never served in Washington and could easily espouse Obama's message of change. He, like Obama, is also a fresh face in political circles and a graduate of Harvard Law School.
But Kaine has been governor for only three years, and it's likely his name on the ticket will do little to assuage voter concerns that Obama lacks the experience to be president. Kaine also does little to shore up the Illinois senator's short résumé on national security credentials.
Speculation that Obama may be moving closer to selecting a running mate kicked into high gear Monday after he was spotted heading into the Washington office building of his top vice presidential vetter, Eric Holder.
Following a roundtable with some of his top economic advisers, Obama headed to the downtown Washington law offices of Covington and Burling, where Holder is a partner. He declined to answer any questions on his way in. CNN Political Market: Who will Obama choose?
Holder, along with Caroline Kennedy, is principally in charge of steering the Illinois senator's search for a No. 2. Longtime Washington insider Jim Johnson had also been leading the search but stepped down last month amid questions over favorable loans from Countrywide Financial.
Kennedy was also reportedly in Washington on Monday for a Democratic National Committee fundraiser.
Obama's campaign wouldn't comment on the meeting, though Obama spent nearly two hours there before heading to a fundraiser in Arlington, Virginia.
Obama campaign manager David Plouffe, as well as senior advisers David Axelrod and Robert Gibbs, also traveled with Obama on Monday, though it was unclear if they attended the meeting.
Speaking with NBC on Sunday, Obama wouldn't say how close he is to selecting his running mate, but said it would happen "soon enough."
"I'm going to want somebody with integrity. I'm going to want somebody with independence, who's willing to tell me where he thinks or she thinks I'm wrong, and I'm -- I'm going to want somebody who shares a vision of the country where we need to go, that we've got to fundamentally change not only our policies, but how our politics works, how business is done in Washington," he said.
Some other names that have been floated as potential top vice presidential candidates include Indiana Sen. Evan Bayh, Delaware Sen. Joe Biden, Sen. Hillary Clinton of New York and Connecticut Sen. Chris Dodd.
E-mail to a friend

CNN political producer Ed Hornick contributed to this report.
All About Barack Obama • Tim Kaine