From Suzanne Malveaux
CNN Correspondent

WASHINGTON (CNN) -- Many Hillary Clinton supporters still think the New York senator should be the leading contender to be Sen. Barack Obama's running mate.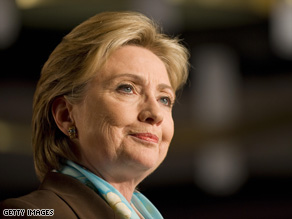 Sen. Hillary Clinton will soon hit the campaign trail for Sen. Barack Obama, sources say.
But more than a month after Obama and Clinton put on their big show of unity, the prospect of a joint ticket seems distant at best -- and possibly over.
Sources close to Clinton said the Obama campaign has asked her to hit the trail for Obama, and she will soon do so in the next couple of weeks -- focusing on Nevada, Ohio and Florida.
She's been told, according to the sources, to expect to travel a lot this fall. Those close to her say she's completely comfortable with that, and not angry with Obama even though it looks like she has very little chance of becoming his running mate.
"From what we can gather, she's not really on the short list," said Gloria Borger, a CNN senior political analyst. "The reason Hillary Clinton is out is because she's not on message for Barack Obama, her campaign is not about change, she represents Washington."
Clinton's 18 million primary voters were once painted as the 18 million reasons Obama would want to pick her for the No. 2 spot.
Clinton made it clear that it was a job she'd take, if asked. Her closest friends did her bidding.
Don't Miss
"She would certainly, as she said to some of the New York delegation, entertain the idea if it's offered," Clinton supporter Bob Johnson said.
Mindful not to disrespect Clinton or alienate her supporters, Obama insists she hasn't been ruled out.
"I've said consistently that I think Hillary Clinton would be on anybody's short list," Obama said on NBC's "Meet The Press" on Sunday.
But as the short list gets shorter, the political calculations seem a little more clear.

Watch more on the Obama vice presidential speculation »
"Hillary Clinton would be in the ticket if the Barack Obama campaign felt that they were in some trouble with the voters that she brings -- the older women, those voters in rural America, battleground states. They don't think they are in trouble there, so they probably don't think they need her," Borger said.
At the same time Clinton is now fully engaged in talks with the Obama team, the buzz is intensifying over who could be a running mate capable of bringing in Clinton voters.
"There is no one running mate that could deliver her supporters in one swoop the way she could, but I do think, for example, that Evan Bayh of Indiana could go to Indiana, which is turning into a battleground state, and help Obama there," Borger added.
Sen. Bayh was also originally a big Clinton supporter and was by her side during much of the primary season.
E-mail to a friend

CNN political producer Ed Hornick contributed to this report.
All About Hillary Clinton • Barack Obama • Evan Bayh