By Leslie Sanchez
CNN Contributor
Leslie Sanchez is a CNN contributor and GOP strategist. You can catch her and other political experts on Anderson Cooper 360.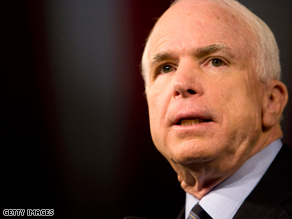 John McCain should wait for Barack Obama to announce his VP, strategist Leslie Sanchez says.
(CNN) -- If conventional wisdom is correct and Barack Obama's vice presidential selection is days away, should John McCain pounce with his own veep announcement?
I say no. For McCain, this game is more like poker than quick draw. He's got one singular advantage when it comes to the Veepstakes -- he can afford to wait and see Obama's hold card.
Once he sees which of two or three strategies Obama has decided to play, he can decide which of his own cards to play.
Will the Democrats make a choice based on region or gender? Will Obama play to "new politics?" Either way, expect McCain's choice to counterbalance Obama's.
Even though Obama has been playing his cards close to his vest, one thing remains clear: Unlike McCain, he has every reason to announce his choice sooner rather than later. Check out more on the AC 360 blog
With the Olympics going from August 8 to the 24th, followed the next day by the Democratic National Convention, August 25 to 28, Obama has only a 10-day window to continue to dominate the headlines. That domination began with his life-or-death battle with Hillary Clinton and continued with his whirlwind snapshot tour of the Middle East and Europe.
What's more, announcing a good choice, and doing it sooner rather than later, could lessen concerns about his own inexperience -- just as George W. Bush's choice of Dick Cheney did for the Republicans in 2000.

Watch experts weigh in on McCain's strategy on AC 360 »
McCain, though, can sit back and watch his challenger make his first move.
The Republican flavors of the week for McCain's best choice include Minnesota Gov. Tim Pawlenty; Florida Gov. Charlie Crist, and the sleeper candidate, former congressman, former Pennsylvania governor and former Homeland Security Secretary Tom Ridge.
Although there's been a lot of talk about former Massachusetts governor and former presidential candidate Mitt Romney's formidable advantages in fundraising and economic credentials, conservatives are beginning to coalesce around McCain. Their increasing dislike for Obama is overcoming their ideological push for GOP purity. See who's in the running
As the Republican conservative and evangelical base comes home, there's less of a reason for McCain to turn to Romney.
Taking a look at the Electoral College map: a McCain-Pawlenty team would make the Midwest more competitive. Hosting the GOP convention in Minnesota gives the governor somewhat of an inside edge, and Pawlenty's reform-minded appeal is compatible with that of McCain.
Yet, despite these advantages, Minnesota itself has an upscale, left-of-center orientation that seems to put it beyond the reach of Republicans, Pawlenty or no Pawlenty.
Speculation has also surrounded Florida's Crist, though McCain already has a strong following in the state, especially among veterans, Hispanics and older Jews who are suspicious of Obama's commitment to Israel.
Pennsylvania's Ridge is being mentioned with increasing frequency. He's a fellow Vietnam veteran who led Pennsylvania with an impressive record of tax cuts and budget restraints.
Ridge deserves a second look, especially if Obama taps Virginia Gov. Tim Kaine as his No. 2. An Obama-Kaine duo would almost certainly put Virginia's 13 Electoral College votes even more in play for the first time since 1964, shifting the battleground to Pennsylvania and its 21 electoral votes.
While Gov. Ed Rendell's powerful Democratic machine is a threat, Pennsylvania remains predominately conservative, especially outside its urban centers. Remember, Pennsylvania Democrats rejected Obama in the primary.
The Keystone State still primarily comprises rural white, working-class voters, the same ones who propelled Ronald Reagan to victory in 1980 and 1984, and freshman Sen. Bob Casey, a pro-life Democrat, decades later. Ridge, a working-class former Congressman from Erie, could be just what the doctor ordered.
The "X" factor with Ridge is likely to be the reaction of the GOP's pro-life base: Ridge is famously pro-choice, and his selection would risk upheaval among the party's social conservative wing.
The question is -- Will they be satisfied with McCain's strong career-long commitment to the pro-life cause, and his promise to appoint strict constructionist justices to the Supreme Court?
Ridge's choice could decide once and for all the significance of single-issue pro-life Republican voters, especially in a weak economy, with the war in Iraq and soaring energy costs weighing on everyone's minds.
One thing appears sure: There's no reason for McCain to tip his hand before Obama plays his card.
E-mail to a friend

All About John McCain • Barack Obama • U.S. Presidential Election