(CNN) -- It happens once every four years: Political pundits, news junkies and water cooler crowds obsess over whom the presidential contenders will pick to be their No. 2.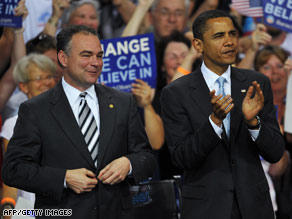 Virginia Gov. Tim Kaine could be in the running to be Barack Obama's VP.
Asked by CNN's Howard Kurtz what drives the compulsion behind the "glorified guessing game," A. B. Stoddard, an associate editor at The Hill, said every journalist is hoping for a "James Bond moment" when he or she can be the one to expose the story.
That, she said, "obviously never happens."
"But it comes in a lull in the campaign -- June and July. You know, the primary is over. It tends to get a little dull. Usually the negative ads ... haven't appeared yet, and so it's sort of a perfect time to begin the guessing game.
"It is their first presidential decision," she said on CNN's "Reliable Sources."
Roger Simon, chief political columnist for Politico.com, said another benefit of dangling names in front of the public is that the candidates can use the media to vet those in the running. See some of the possible VP picks
"If there's anything is some guy's closet ... some local reporter who has covered this person for eight or 12 or 16 years might know about and might it get out before the candidate has committed to an embarrassing choice," he said.
Before the 1980s, presidential candidates typically did not unveil their running mates until the convention, often on its very last day.
Democrats broke this trend in 1984, when Walter Mondale announced his pick of Geraldine Ferraro four days before the start of the San Francisco convention.
The Democrats continued this practice through 2004, when John Kerry announced John Edwards as his running mate 20 days before the convention.
Republican candidates did not start announcing their vice presidential picks ahead of their convention until 1996.
The Democratic convention takes place August 25-28 in Denver, Colorado, and the Republican convention is September 1-4 in St. Paul, Minnesota.
For Sen. Barack Obama, the buzz this week focused on Virginia Gov. Tim Kaine, Delaware Sen. Joe Biden, Indiana Sen. Evan Bayh and Kansas Gov. Kathleen Sebelius.

Watch more on the VP buzz »
CNN contributor Leslie Sanchez said she thinks it's a good idea for Obama to announce his pick soon -- before the news cycle is dominated with the Olympics, which run from August 8-24. She said Sen. John McCain should watch his challenger make his first move. That way he can adjust his pick if necessary. Read more on why Sanchez says McCain should hold
On the Republican side, Virginia Rep. Eric Cantor, former Massachusetts Gov. Mitt Romney, former U.S. Rep. Rob Portman of Ohio and Minnesota Gov. Tim Pawlenty were discussed as possible picks for McCain.
But, when it comes down to it, the only people who know the "who and when" aren't talking.
"We don't even know if the candidates have really decided ... Some of the names floated now are the candidates being nice to people who have no chance but floating their names helps them with their local constituents," Simon said.
McCain last month told CNN's Wolf Blitzer that it's too risky to comment on the process.
"I can't comment on the process that we're going through. I apologize for being so obtuse," McCain said. "When we start commenting, you really get on a slippery slope and sometimes that's unfair to the people that are under consideration."
In an interview last month with CNN's Candy Crowley, Obama said the next time he talks about his vice presidential selection will be to introduce his pick.
Stoddard said she thinks Obama could be keeping secret an "explosive surprise."
"I think particularly someone like Barack Obama, who is such a controlling politician and works so hard to make sure that everything is leak-proof -- I imagine he probably has led us completely astray and might have a really explosive surprise in store because that's the way he wants to be," she said.
E-mail to a friend

All About John McCain • U.S. Presidential Election • Barack Obama