From Ed Hornick
CNN

WASHINGTON (CNN) -- Virginia Gov. Tim Kaine, a top supporter of Sen. Barack Obama, said Wednesday that while he's not running for Obama's vice president, he will do everything he can to help the presumptive Democratic presidential candidate win in Virginia.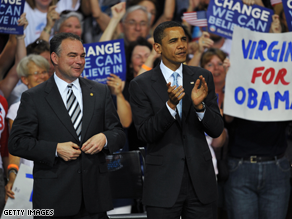 Virginia Gov. Tim Kaine is being mentioned as a potential running mate for Sen. Barack Obama.
"I'm not running for anything. ... But my highest and best use is trying to be a good governor and trying to help Sen. Obama in Virginia, which as you know traditionally hasn't gotten a lot of attention in presidential years," he told CNN's Wolf Blitzer.
Kaine spoke from Norfolk, Virginia, where he joined Michelle Obama earlier at a roundtable discussion with military families.
Sen. Obama, meanwhile, campaigned in Indiana alongside Sen. Evan Bayh, another politician believed to be on the vice presidential short list -- but did not address vice presidential rumors.
Kaine said he believes Obama could win in Virginia.
"I really believe for the first time in 44 years that we have a great chance of getting the electoral votes in a blue column for Sen. Obama this fall," he added.

Interactive: CNN Electoral Map »
Virginia hasn't voted for a Democrat since President Lyndon Johnson in 1964, but for more than a year, Obama's campaign has cited the state's 13 electoral votes as part of its argument that he can reshuffle the electoral map this fall.
Obama spokesman Tommy Vietor has said Virginia will play a "pivotal role" in the general election.
Kaine, a Roman Catholic, once worked as a missionary in Central America and can speak about religious values -- something Obama wants more Democrats to do. Kaine speaks fluent Spanish, and could help Obama with Latinos -- another target group for Democrats.

Watch voters sound off on the potential vice presidential picks »
Kaine was born in Minnesota and went to college in Missouri, two swing states in the Midwest.
Stu Rothenberg of the Rothenberg Political Report told CNN last week that Kaine "makes a lot of sense" for Obama.
"Virginia is going to be one of the two or three key states for Obama," he said.
CNN senior political analyst Bill Schneider said there are several advantages: "He's young; he's fresh; he's new; he's an outsider."

Watch more on Tim Kaine's chances »
The downside is that both Obama and Kaine are young and very new to the national stage, with little or no national security experience.
The two Democrats, however, are comfortable with each other. Kaine was the first governor to endorse Obama outside Illinois, when most of the Democratic establishment was still supporting Sen. Hillary Clinton.
Other names that have been floated as potential top vice presidential candidates include Bayh, Delaware Sen. Joe Biden, Clinton and Connecticut Sen. Chris Dodd.
Kaine on Wednesday also discussed offshore oil drilling, saying that while he is "open to exploration" of gas reserves off the country's coast, there needs to be a "new assessment of the costs and benefits. ... In order to do that you need to look at the consequences."
Obama on August 1 eased his policy against offshore drilling, saying it could be part of a larger bipartisan energy plan.
Like Obama, Kaine said he believes the government needs to first drill in the nearly 70 million acres of land already leased to oil companies for drilling.
"They have acreage leased already that could do significant good," he said.
Asked whether Sen. John McCain deserves credit for pushing for an increase in U.S. troops that enabled the reduction of violence in Iraq, Kaine said, "I don't know if he deserves credit. The notion that more troops might lead to more stability I don't think is a controversial one."

Watch more of Kaine's interview »
McCain and Obama have different views on how to handle the situation in Iraq. McCain has said troop withdrawal should be based on conditions on the ground, while Obama has advocated removing all combat brigades within 16 months of taking office.
"The problem with [McCain's] position, he says do it my way, no timeline, let's just have victory. He hasn't defined victory ... I think that's something that the American people, and especially men and women in service, are entitled to," Kaine said.
E-mail to a friend

CNN senior political analyst Bill Schneider contributed to this report.
All About Tim Kaine • Barack Obama