From Jessica Yellin
CNN Correspondent

WASHINGTON (CNN) -- The race between Sens. John McCain and Barack Obama is extremely tight, according to the latest CNN "Poll of Polls." Just 5 points separate the two candidates: Obama's 48 percent to McCain's 43 percent, with 9 percent undecided.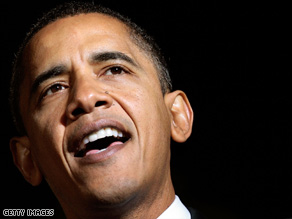 Barack Obama is edging John McCain by only 5 points in the latest CNN "Poll of Polls."
Most Americans are grim about the state of the economy, unimpressed with progress in Iraq and unhappy with the Republican in the White House. They want change, and poll after poll shows that voters favor Democrats in November.
A CNN-Opinion Research Corp. poll of 1,041 adults conducted July 27-29 found that 62 percent favor a timetable for withdrawing U.S. troops from Iraq, but 37 percent oppose setting deadlines. The results had a margin of error of plus or minus 3 percentage points.
Another CNN/Opinion Research Corp. poll, out Wednesday, showed that 48 percent of those surveyed said McCain and Obama's economic policies would be the most important issue when deciding whom to vote for this fall. But when it comes to who is the better choice to fix the economy, Obama is their pick by a 54 percent to 43 percent margin, with a margin of error at plus or minus 3 percent.
Although those numbers suggest that the stage is set for the Democratic presidential candidate to win, Obama is holding on to only a narrow advantage.

Watch more on why Obama's not doing better in the polls »
"I don't think it's his lineage, nor do I think it's his policies. I think it's the fact that he's young and relatively inexperienced," CNN senior political analyst Bill Schneider said. "You hear all the time people say, well, is he really ready to be president, someone his age, someone who hasn't been in Washington that long, someone who doesn't seem to have a lot of experience with national security or foreign affairs?"
The McCain campaign, meanwhile, is trying to capitalize on that, telling voters Obama cannot be trusted, recently running an ad mocking Obama's celebrity status while comparing the Illinois senator to Paris Hilton and Britney Spears.

Watch Hilton's response to McCain's ad »
Don't Miss
The Obama campaign insists that this is all to be expected and says it's a long time between now and November.
The Obama camp acknowledges that there's work to do. Campaign officials say that introducing Obama is the key idea in making voters feel comfortable with him.
Recently, the campaign has been replacing the big crowds with smaller settings, taking questions and hitting back hard against McCain's attacks with TV ads of their own.
"Our politics has gotten so nasty. That's the word I was looking for -- but not just nasty, also cynical and manipulative," Obama has said.
Political observers say the numbers could change dramatically if undecided voters decide to trust the new guy. The McCain campaign is working to ensure that doesn't happen.
The unknown in all of this is the role of race. But it does play a role, as charges of playing the race card erupted on both sides last week.
The fact that Obama is the first African-American in his position could be a big reason why some voters feel that he's unfamiliar or that he might hold different values, political observers said.
But just what role it will play is still unknown.
The CNN "Poll of Polls" consists of four surveys: CNN/Opinion Research Corporation (July 27-29), AP-IPSOS (July 31-August 4), USA Today/Gallup (July 25-27), and Gallup tracking (August 2-4). The Poll of Polls does not have a sampling error.
E-mail to a friend

CNN political producer Ed Hornick contributed to this report.
All About Barack Obama • John McCain