WASHINGTON (CNN) -- One week after Sen. Barack Obama's campaign released a tough Ohio radio ad that said Sen. John McCain and his campaign manager, Rick Davis, were partly responsible for the potential loss of thousands of jobs in the state, the presumptive Democratic nominee launched a TV spot Friday that makes the same charge.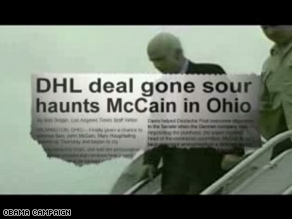 Obama's campaign released another ad blaming McCain for the potential loss of Ohio jobs.
Shipping company DHL is considering moves that would result in the loss of 8,000 jobs in Wilmington, Ohio. McCain visited the town last Thursday, as workers continued to protest the proposed cuts.
"If DHL -- if something happens -- it's going to be like a ghost town," says local resident Chris Fisher in the 30-second spot.
Morrow, Ohio, resident Ed Rutherford tells viewers, "I thought I was doing a good job providing for my family. And to have that taken away ..." He adds, "it's tough times. When it's a foreign entity coming in and sucker-punching us. That's how this felt."
"In Washington, John McCain helped pave the way for foreign-owned DHL to take over an American shipping company," the announcer says. "McCain's campaign manager was lead lobbyist for the deal. Now, thousands of Ohio jobs at risk."
The McCain camp quickly distributed excerpts of a report criticizing the Obama claims. "FactCheck.org just released a report calling Obama's recent ads accusing John McCain of costing Ohio jobs 'false,' 'misleading' and 'unsubstantiated,' " McCain spokesman Brian Rogers said.
"It's now clear that the Obama campaign's attack on John McCain and the DHL issue -- which Obama campaign manager David Plouffe called 'the most important development in the campaign' -- is based on a lie."
The Obama radio ad, timed to coincide with McCain's visit and an AFL-CIO flier sent to 100,000 Ohio union households, made the same claims.
Don't Miss
McCain's campaign, meanwhile, launched an ad Thursday that sharply criticizes Obama's tax policies.
The ad, which continues the effort to paint the Illinois senator as a mere celebrity, says Obama's tax policies will lead to an "economic disaster."
"Obama's new taxes could break your family budget," the announcer says. "Higher taxes. Higher gas prices. Economic disaster."
The campaign says the 30-second spot, called Taxman, will air in "key states."
Obama has proposed cutting taxes on middle-income Americans while raising those for families earning more than $250,000. Writing in the Wall Street Journal on Thursday, Obama economic advisers Jason Furman and Austan Goolsbee defended his proposals.
"Sen. Obama believes a focus on the middle class is appropriate in the wake of the first economic expansion on record where the typical family's income fell by almost $1,000," Furman and Goolsbee wrote.
McCain has proposed extending President Bush's tax cuts, including those of high-income earners.
The Democratic National Committee is also taking on John McCain in a Web video calling into question his reputation as a campaign finance reformer and a maverick who stands outside the inner circles of political dealings in the nation's capital.
The online video accuses McCain of "cozying up" to the "cronies" of disgraced lobbyist Jack Abramoff, who pleaded guilty in 2006 to federal charges of fraud, tax evasion and conspiracy to bribe public officials.
The video takes issue with McCain's fundraising ties to Ralph Reed, a former business partner of Abramoff's.
"While most people now see Ralph Reed as a tainted man raising tainted money, John McCain sees him as a source of campaign cash," a narrator says.
Reed recently sent out an e-mail that urged Republicans in Georgia to attend a Republican National Committee fundraiser for McCain, scheduled for Monday in Atlanta.
The Democratic National Committee said Rep. Henry Waxman, D-California, will call for McCain to cancel the fundraiser.
E-mail to a friend

CNN's Ed Hornick, Alexander Mooney, Rebecca Sinderbrand and Martina Stewart contributed to this report.
All About Barack Obama • John McCain