ORLANDO, Florida (CNN) -- Sen. John McCain questioned his Democratic opponent's ability to be commander in chief in an address before a national veterans convention Monday.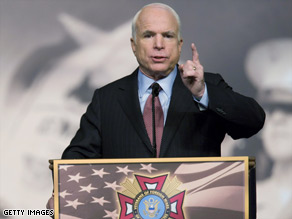 Sen. John McCain speaks at the Veterans of Foreign Wars convention Monday in Orlando, Florida.
McCain, the presumptive Republican presidential nominee, said Sen. Barack Obama's opposition to President Bush's "surge" strategy, which increased troop levels in Iraq in 2007, and his response to the recent crisis in Georgia raised questions about the Illinois Democrat's judgment.
"Behind all of these claims and positions by Sen. Obama lies the ambition to be president. What's less apparent is the judgment to be commander in chief," McCain told the national Veterans of Foreign Wars convention in Orlando.
"And in matters of national security, good judgment will be at a premium in the term of the next president -- as we were all reminded 10 days ago by events in the nation of Georgia."

Watch McCain hit Obama on Iraq »
McCain condemned Russia after its invasion of Georgia on August 8. The conflict began more than a week ago when Georgian troops entered the breakaway republic of South Ossetia to attack pro-Moscow separatists, prompting a Russian military response.
Obama spokesman Bill Burton quickly responded to McCain's attack, arguing that the difference in the race was that the Democrat would bring the Iraq war to "a responsible end and invest in our pressing needs here at home."
Candidates 'Revealed'
See who the presidential candidates really are in two special, back-to-back documentaries.
Wednesday, 8 p.m. ET
"All his bluster, distortions and negative attacks notwithstanding, it is hard to understand how Sen. McCain can at once proclaim his support for the sovereign government of Iraq and then stubbornly defy their expressed support for a timeline to remove our combat brigades from their country," Burton said.
During ongoing negotiations on a framework to allow U.S. forces to operate in Iraq, the government of Iraqi Prime Minister Nuri al-Maliki told U.S. officials it would like U.S. troops be withdrawn from Iraq by 2011.
During his speech in Orlando, McCain also promised his fellow veterans that he would reform the Department of Veterans Affairs when he becomes president. McCain was a Navy pilot during the Vietnam War and was held as a prisoner of war for five years in Vietnam.
"As president, I will do all that is in my power to ensure that those who serve today and those who have served in the past have access to the highest quality health, mental health and rehabilitative care in the world," McCain told the convention.
After addressing the veterans, McCain toured a NASA facility at Coco Beach and blasted Obama for suggesting that the space agency's program should be cut.
Don't Miss
"I know that earlier this year Sen. Obama proposed cutting the NASA budget and delaying the timetable for our return to the moon and the Mars mission. I believe he later repudiated his own plan, and sometimes it's difficult to know what a politician will actually say when he is in office because they say different things at different times to different people."
Later Monday, McCain was scheduled to attend a fundraiser hosted by Ralph Reed, a former executive director of the Christian Coalition, an evangelical group. Reed, now a lobbyist, had been tied to Jack Abramoff, the convicted lobbyist, and the Indian gambling scandal.
McCain was chairman of the Senate Committee on Indian Affairs that investigated Abramoff's involvement in the scandal. The Wall Street Journal's editorial board and the Democratic National Committee have criticized McCain for planning to attend the Reed fundraiser in Atlanta, Georgia.
As McCain campaigned in Florida, Obama traveled to another critical battleground state, New Mexico, to unveil a plan aimed at improving the economic security of working women.
Obama's trip comes a week before the start of the Democratic National Convention in Denver, Colorado. He is expected to announce his pick for the No. 2 spot on the ticket this week.

Watch who could be Obama's VP pick »
Speaking in Albuquerque, Obama faulted McCain for offering what he said were the same economic policies as President Bush.
"I'll bet if everybody just compared notes that 95 percent of us would agree on what the No. 1 priorities are, and almost everybody here would agree that we can't keep on doing what we've been doing," Obama said.
On Sunday, Obama promised donors that he would recapture the White House for the Democrats this fall.
"I will win. Don't worry about that," the presumptive Democratic presidential nominee said during a Sunday night fundraiser in San Francisco, California.
Obama raised a whopping $7.8 million in a series of events Sunday in San Francisco, a key fundraiser for the Democrat said.
The campaign would not confirm the total, but, if accurate, it would present the largest Obama fundraising day to date.
E-mail to a friend

CNN's Peter Hamby and Mike Roselli contributed to this report.
All About John McCain • Barack Obama • Ralph Reed