By John King
CNN Chief National Correspondent

WASHINGTON (CNN) -- This is my sixth presidential campaign, and without a doubt John McCain is the most consistently accessible candidate when it comes to the news media.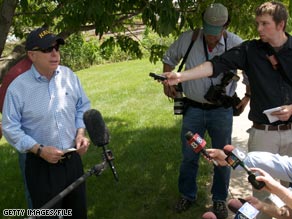 Sen. John McCain's availability to the media has advantages and disadvantages, says a former aide.
Daily "availabilities" are a staple of the senator's schedule; often these are held on his campaign plane or bus, sometimes just at the edge of the press area in the back of the room after a speech or town hall meeting.
It is unquestionably part of his political appeal -- even critics applaud his willingness to take questions on any subject. Some of these same critics also suggest McCain gets more favorable press because he is so accessible, and because he so clearly enjoys both the serious exchanges and playful banter that punctuate his relationship with the media.
It is nothing new.
He "always enjoyed it," says Torie Clarke -- who was McCain's press secretary in 1983, when he was a freshman House member from Arizona or, as she put it, "a brand new, baby freshman congressman."
But campaign staffers, then and now, don't always like it, because making candidates accessible to reporters puts candidates in danger of being -- to borrow the Washington jargon -- "knocked off message."

See photos of McCain campaigning »
That's when candidates are persuaded to talk about other issues during a day when campaign staffers want the candidate to focus solely on something else deemed more critical.
Clarke, though, says McCain's political success is proof his instincts are good.
"Ninety-five percent of the time that very forward leading, out front kind of attitude serves him very well," says Clarke. "Five percent of the time he can say something completely outrageous and that's when you wish somebody had told him to be a little more careful."
There are exceptions to McCain's approach, and one stands out more than any other.

Test your knowledge about McCain »
In 1994, the senator's wife, Cindy McCain, acknowledged her battle with an addiction to prescription painkillers. Among her revelations was that she had diverted -- for her personal use -- drugs that were intended for a medical charity she ran. The charity helped poor and disadvantaged children around the world.
The Arizona Republic, McCain's hometown newspaper, published an editorial cartoon that showed Cindy McCain stealing medication from the mouth of a poor infant.
"I thought that that cartoon was gratuitous and obviously offensive," John McCain told CNN in one of three sessions he spent with us to discuss his life and career. "I'm very confident and proud of Cindy that she has overcome this and gone on to do some very good things in her life and this world."
Reminded of the cartoon, Clarke says: "He was furious. ... He found me instantly and was just absolutely furious. ...He just said, 'I want nothing to do with these people -- I want nothing to do with them. .... That's it. We're done. We're not talking to them anymore.' "
That boycott lasted a year, says Clarke.
McCain himself refused to talk to anyone at the newspaper, whether they worked in Washington or Arizona, for the news department or the editorial page.
His staff knew it wasn't a boycott meant just for the senator. "It was well understood you don't talk to them," Clarke says.
Some people may describe that behavior as silly or irrational, says Clarke.
But "understand the emotions," she explains. "Impractical as it was for McCain to act the way he did, by saying, 'I'm a senator from Arizona, but I'm going to blackball the biggest newspaper in the state,' ... God bless him for being that angry on behalf of his wife."
E-mail to a friend

All About John McCain • Media • U.S. Presidential Election