DENVER, Colorado (CNN) -- Suspicious letters, one containing white powder, received at two of Sen. John McCain's campaign offices were not dangerous, police and fire officials said.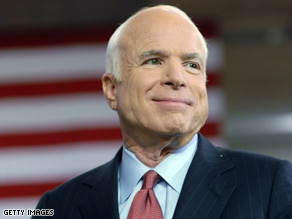 Sen. John McCain's camp received two threatening letters, including one that contained white powder.
The two letters were sent to a campaign office in suburban Denver and to an office in Manchester, New Hampshire.
It was initially reported that the Denver letter contained an unknown white powder and a threatening message, but a fire department spokesman said there was no white powder, just a small amount of an unknown substance. The substance tested positive for protein, the official said.
Manchester Police said they examined the letter and found no dangerous substance. The letter drew suspicions because it had a Denver return address, a campaign spokesman said.
The Denver letter was received at 3 p.m. at McCain's regional campaign office, McCain's campaign said.
Four or five people from the office drove themselves to a nearby hospital, said Bruce Williamson of the Arapahoe County Sheriff's Office. The people were treated and released after the hospital determined they were not ill. Others in McCain's office were evacuated, Williamson said.
E-mail to a friend

CNN's Joe Johns, Justine Redman and John King contributed to this report.
All About John McCain