By Wolf Blitzer
CNN Anchor
DENVER, Colorado (CNN) -- And now the selling begins.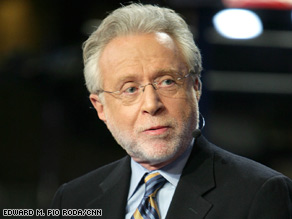 CNN's Wolf Blitzer says Democrats need to sell Barack Obama to voters.
The Democrats need to do some major marketing at their party convention in Denver, Colorado.
First and foremost, they need to sell Sen. Barack Obama. They need to convince American voters that he's the right man to lead the country.
That sales campaign kicks off Monday night with the focus on Obama's personal story. It is an amazing success story that will be told on the big screen inside the Pepsi Center.
The video, we are told, will be dramatic and highly produced, including some powerful music. And it will be amplified by his wife, Michelle, who speaks Monday night. iReport.com: Share your photos, videos from the convention
Barack Obama's sister Maya Soetero-Ng, and Michelle's brother, Craig Robinson, will also speak.
It also will be an emotional night as the Democrats pay tribute to Sen. Ted Kennedy, who has brain cancer.
Beyond the personal and the emotional, the sales campaign moves to more substance Tuesday night with the focus on issue No. 1: the economy. The Democrats are calling their theme that night "Renewing America's Promise."
Sen. Hillary Clinton will be the headline prime-time speaker. This will be a critically important speech because so many of her supporters remain unconvinced about Obama. The tone she sets and the words she utters will send out a powerful message.
Former Virginia Gov. Mark Warner will deliver the keynote address that night. He is running for the U.S. Senate to succeed John Warner (no relation).
There's a history to these speeches. Obama delivered the keynote address at the Democrats' last convention, and we know where he wound up.
Bill Clinton, then the governor of Arkansas, delivered the keynote address at the 1988 convention, and we know where he wound up.
The focus shifts to national security and foreign policy Wednesday night in what the Democrats are calling "Securing America's Future."
Sen. Joe Biden, the vice presidential nominee, will deliver the big speech. He will speak and make the case for Obama and, perhaps even more important, make the case against McCain.
Knowing Biden as I do, this will be a feisty moment.
Former President Clinton will weigh in that night with a major speech of his own. That also should be a moment.
Finally, the festivities move to INVESCO Field at Mile High Stadium for the biggest night of the week: when Obama accepts his party's nomination.
About 80,000 people will fill the stadium. Tens of millions will be watching at home. No surprise on his theme for the night: "Change You Can Believe In."
That message brought him to the big dance, and he and his team believe that it can get him to the finish line.
E-mail to a friend

All About Democratic National Committee • Barack Obama • Mark Warner