DENVER, Colorado (CNN) -- For six hours and with at least 60 speakers, Democrats will focus Tuesday on a theme of "Renewing America's Promise" at their national convention.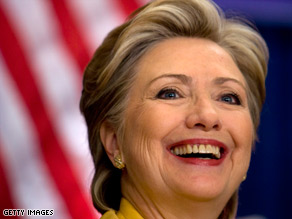 Sen. Hillary Clinton will address the Democratic National Convention on Tuesday night.
The headliners -- Sen. Hillary Clinton and former Virginia Gov. Mark Warner -- will deliver full-length addresses. But most of those appearing at the podium will have four minutes or less to get their message across to a sometimes less-than-attentive crowd.
The podium parade will feature 40 officeholders, including two mayors, 13 governors, 14 members of the U.S. House of Representatives and 11 senators -- nine of them women.
The only state official on the list who is not a governor is California State Comptroller John Chiang, who is known for his clashes with Gov. Arnold Schwarzenegger.
The remaining 20 speakers are primarily nonpoliticians, including a flood victim and people who recently have lost jobs or are about to be laid off.

Watch highlights from convention's first day »
An Iraq war veteran, Bronze Star recipient Koby Langley, is scheduled to appear. The leader of Veterans for Obama will lead the convention in the Pledge of Allegiance.
The lone educator on the speakers' list is the president of a technical college serving American Indians. David Gipp will talk about the need for higher education opportunities for members of tribal nations.
Don't Miss
Atlanta Mayor Shirley Franklin will bang the gavel to start the session. Then a minister will give an invocation. Two others will deliver the benediction six hours later, when Franklin bangs the gavel a final time.
The mayor of Fairbanks, Alaska -- Jim Whitaker, a Republican who has endorsed Sen. Barack Obama -- will talk about the economy, health care costs and education.
Two other people described as lifelong Republicans will speak, including a retired Navy admiral and an unemployed nurse.
The Republican nurse is one of three people on the speakers' list who have lost their jobs or expect to be laid off soon. The others are a Michigan autoworker who has received a layoff notice and a laid-off North Carolina textile worker with huge medical bills.

See memorable moments from past conventions »
Three labor union activists are set to speak, including AFL-CIO President John Sweeney.
One of the nonpoliticians to take the podium will be Lily Ledbetter, whose equal pay lawsuit against Goodyear Tire led to the passage of the Fair Pay Restoration Act.
A 23-year-old Iowa woman, left temporarily homeless by June's floods, will address the convention. She was one of the flood victims chosen last month to speak with Obama when he visited Cedar Rapids, Iowa.
Four people will serve as panelists for a brief "town hall" forum on the economy to be moderated by Michigan Gov. Jennifer Granholm. iReport.com: Share your reaction to DNC speeches
Nancy Floyd, founder of Nth Power, a company that invests in energy technology, will address renewable energy policies.
Federico Pena, who was President Clinton's energy and transportation secretary, also will speak. Pena endorsed Obama a year ago and helped him appeal to Hispanic voters.
Drawing a link between Obama and President John F. Kennedy, Ted Sorenson will speak. The 80-year-old Sorenson, who was one of Kennedy's closest aides and his speechwriter, is an adviser to Obama.
E-mail to a friend

All About Hillary Clinton • Barack Obama • AFL-CIO