(CNN) -- Sen. Hillary Clinton urged her party at the Democratic National Convention in Denver, Colorado, Tuesday to support her former rival, presidential candidate Sen. Barack Obama.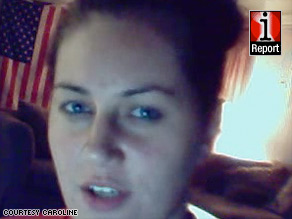 iReporter Caroline felt that Clinton's convention speech "was perfect in every sense."
"No way. No how. No McCain. Barack Obama is my candidate. And he must be our president," she said.
Clinton's speech received a standing ovation from the packed arena, and the reaction from iReporters watching the speech in Denver and in homes across the country was no less enthusiastic.
"Hillary Clinton just gave the most amazing speech. It was perfect in every sense," said iReporter Caroline, who shot a video reaction to the address in her Ft. Campbell, Kentucky, home.
Caroline, 24, said the speech made her laugh and cry and left her with goose bumps. The iReporter asked to keep her last name private because her husband is in the military.
"I was inspired," she said. "I have catch phrases now that I will be using to bash any McCain supporter that comes near me in a 10-mile radius."
Brenda Clarke of Deerfield, Illinois, said Clinton did "a phenomenal job" Tuesday night.
"Hillary spoke with class, insight, eloquence and professionalism," she wrote on iReport.com. "She proved why she is in a league of her own."
"Hopefully now, the Democratic Party will move forward, unified as one," said Clarke, a former supporter of Clinton's, who said she now supports Obama.
Jacqueline Jackson, wife of the Rev. Jesse Jackson and a Clinton supporter, watched the speech at the packed convention center.
"Mrs. Clinton gave one of the most brilliant speeches tonight," she said. "I'm still excited, but we must move on." Jackson made several campaign commercials for the Clinton campaign.
Before Clinton's speech, many analysts speculated whether she would make a strong enough case for her support of Barack Obama. iReport.com: Watch a couple who have mixed feelings about Clinton's speech
Kimberly Cockrel of Detroit, Michigan, said Clinton could have done more.
Don't Miss
"Although I enjoyed the speech, I really thought that Hillary should have been a little stronger in her words in support of Barack Obama," she said.
Cockrel, who attended Clinton's speech in Denver, said that the former presidential candidate missed some key points and "some hard-hitting things she could have said," that would have convinced her staunch supporters to vote for Obama.
Pennsylvania Sen. Vincent Hughes argued that Clinton showed plenty of support for her former rival.
"It was very clear ... right from the beginning, within the first minute of her speech, she said I'm for Barack Obama," he said. "She said it over and over and over again throughout the speech."
"She hit a grand slam home run," he added. "I'm proud of her."
Former Clinton supporter Lisa Perez said there were tears among many of Clinton's fans at a viewing party she attended in San Antonio, Texas.
"It was definitely an emotional moment," said Perez, who also commented on yesterday's convention speeches by Sen. Edward Kennedy and Michelle Obama.
"Don't believe it when they talk of bitterness -- there weren't any bitter Hillary supporters among us," she wrote on iReport.com. "We all said of course we were going to support our party's candidate, Sen. Obama."
Hadieh Shafie of Baltimore, Maryland, described Clinton's speech as "absolutely riveting and incredibly emotional."
Shafie, who supported Clinton during the primaries, said she believes Obama should have chosen the New York senator as his running mate.
Regardless, Shafie said she is considering voting for Obama in the presidential election.
"It's going to be difficult to cast a vote for somebody who I thought made a wrong choice," she said. "If I do vote for Obama, it will definitely be because Sen. Clinton asked us to do it. But it's not going to be a joyous vote."
Obama supporter David P. Kronmiller of North Hollywood, California, said Clinton was among the standouts of the evening.
"Hillary Clinton gave her speech, and I've got to say, it was fantastic, she did an amazing job," he said.
"She did a very good job of talking to her supporters and winning them over for Barack Obama," he said. "But I also think that she won a few Barack Obama supporters as well."
E-mail to a friend