(CNN) -- Republicans praised John McCain's pick of Alaska Gov. Sarah Palin to be his running mate Friday, but Democrats said it didn't change the dynamics of the presidential race.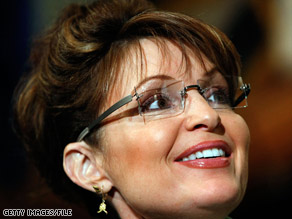 Alaska Gov. Sarah Palin, shown in February, will be Sen. John McCain's running mate.
McCain's campaign described Palin as a uniter and reformer.
"Gov. Palin is a tough executive who has demonstrated during her time in office that she is ready to be president. She has brought Republicans and Democrats together within her administration and has a record of delivering on the change and reform that we need in Washington," a release from the McCain campaign said.
Minnesota Gov. Tim Pawlenty, who was on McCain's short list of possible running mates, called Palin "a wonderful, terrific, outstanding pick."
"She's an executive, she's a reformer, dynamic," he said. Calling her a "hockey mom," he said she has a "compelling personal story."

Watch Palin say she's honored to be VP pick »
South Carolina Republican Sen. Jim DeMint echoed the call for reform.
"Sarah Palin is an exciting choice by Sen. McCain. She completes a strong ticket that will bring a real record of change and reform to Washington," DeMint said in a statement.
DeMint also touted Palin's conservative track record.

"She is a strong defender of traditional family values, with an unquestioned commitment to protect life. Gov. Palin knows we must aggressively pursue American energy sources like offshore drilling to reduce our dependence on foreign oil," he said.
House GOP leader John Boehner of Ohio called Palin a "strong agent for change."
"In choosing Gov. Palin, McCain has put Washington on notice: He is serious about shaking up the status quo and leading a movement for reform on behalf of families and small businesses," Boehner said.
Palin, 44, is in her first term as governor of the 49th state and has little experience outside Alaska. She was mayor and a council member of the small town of Wasilla. She also was chairwoman of the state Oil and Gas Conservation Commission, which regulates Alaska's oil and gas resources, before defeating incumbent Gov. Frank Murkowski in the GOP primary and former two-term Democratic Gov. Tony Knowles in the 2006 general election.
President Bush, in a statement, praised McCain for choosing "a working mother with a track record of getting things done."
Democratic leaders issued mixed reactions to Palin's announcement.
"We should all be proud of Gov. Sarah Palin's historic nomination, and I congratulate her and Sen. McCain. While their policies would take America in the wrong direction, Gov. Palin will add an important new voice to the debate," Sen. Hillary Clinton said.
Sens. Barack Obama and Joe Biden, the Democratic ticket, congratulated Palin and called McCain's choice of a woman "another encouraging sign that old barriers are falling in our politics."
However, Obama said Palin would deliver "more of the same," a refrain that is becoming the hallmark of his critiques against McCain
"John McCain is at top of ticket. As I indicated in my speech last night, I think that he wants to take the country in the wrong direction. I'm assuming Gov. Palin agrees with him in in his policies," said Obama, who called Palin later in the day to congratulate her.
But another statement from the Obama-Biden campaign was strongly critical of the Alaskan's experience.
"Today, John McCain put the former mayor of a town of 9,000 with zero foreign policy experience a heartbeat away from the presidency," Obama campaign spokeswoman Adrianne Marsh said.
Sen. Charles Schumer, D-New York, called McCain's choice of Palin a desperate one.
"The choice of Sarah Palin is surely a Hail Mary pass," Schumer said in a statement. "It is a real roll of the dice and shows ... what a strong position the Obama-Biden team and Democrats in general are in in this election."
Schumer also said the pick of Palin negates GOP arguments that Obama, who is three years older than Palin, doesn't have the experience necessary to be president.
"While Palin is a fine person, her lack of experience makes the thought of her assuming the presidency troubling," Schumer said.
Rep. Rahm Emanuel, D-Illinois, picked up on that theme.
"Given Sarah Palin's lack of experience on every front and on nearly every issue, this vice presidential pick doesn't show judgment: it shows political panic," Emanuel said in a statement.
Sen. Ken Salazar, D-Colorado, said he didn't think the choice of Palin would help the GOP ticket pick up Democrats who'd been supporters of Sen. Hillary Clinton's presidential bid.
"What's going to happen here is that desire to change that Hillary Clinton has helped bring about will ultimately lead to [an Obama]-Biden win in November. I don't think it changes the dynamics," Salazar said.
Rep. Mike Pence, R-Indiana, disagreed.
"I believe that will hearten women across this country," Pence said of the choice of Palin. "I think as they come to know Gov. Sarah Palin they are going to see her not simply as an embodiment of those strong conservative values that thrill my heart, but they are going to see her as an embodiment of an accomplished American women.
"And I believe that will resonate with millions of American women," Pence said. iReport.com: Palin the 'perfect counterpunch'
The only other woman to run for the vice presidency, former New York Rep. Geraldine Ferraro, said she hoped the choice of Palin wouldn't bring sexism back into the campaign.
"I believe that people will look back and assess how Hillary was treated by the media during the campaign primaries. And it remains to be seen whether or not the ugly head of sexism -- in the media -- will raise its head again," said Ferraro, who ran with Walter Mondale on the Democratic ticket in 1984.
"I have always said that I wish I would have never been the only woman, until now," she said.
E-mail to a friend

All About John McCain • Republican Party • Sarah Palin