ST.PAUL, Minnesota (CNN) -- First lady Laura Bush appealed Monday to the nation to put aside partisan interests and donate generously to charities to help Gulf Coast residents affected by Hurricane Gustav.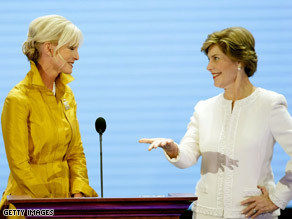 Cindy McCain, left, and Laura Bush address Republican delegates on Monday.
Speaking on the first day of the scaled-back Republican National Convention, she told delegates that Americans "are here to do what we can to assist them."
"Our first priority is to assure the safety and well-being of those living in the Gulf Coast region," said Bush, whose husband, President Bush, was criticized for what many saw as a lackluster federal response to Hurricane Katrina three years ago.
"When such events occur, we are reminded that, first, we are all Americans, and that our shared American ideals will always transcend political parties and partisanship," she said. "We hope that the people on the Gulf Coast know that the American people are here to do what we can to assist them."
Though she focused on private aid, Bush noted that her husband "has been speaking with the officials in the region to make sure they have what they need from the federal government."

Watch Bush address the delegates »
She noted that the governors of the affected states -- Texas, Mississippi, Alabama and Florida -- "happen to be Republicans," but had canceled their planned attendance at the convention in St. Paul, Minnesota.
"We know that it's far more important for them to remain in their home states to provide the leadership and the management of this crisis," she said.
The former school librarian's would-be successor, Cindy McCain, said her husband, the presumptive GOP presidential nominee, John McCain, "has been saying for the last several days this is the time we take off our Republican hats and put on our American hats."
Don't Miss
She urged Americans to go to www.causegreater.com, a Web site paid for by John McCain 2008, to donate.

Watch Cindy McCain urge delegates to help »
"That will allow all of us to aid those who have been affected by Hurricane Gustav," said McCain, a beer heiress.
Added Bush, "Let's work together to provide those affected with the means to restore and rebuild their communities."
Texas delegate Annette Ratliff said she was disappointed the convention was cut short Monday, but said "it was appropriate -- we did what we had to do."
She and the other delegates will find out Tuesday morning what's on the agenda for day two.
Cindy McCain and Laura Bush also spoke to the Louisiana delegation early Monday morning, just hours after Hurricane Gustav came ashore.
John McCain on Sunday asked Republican Party officials to curtail the activities at the convention in St. Paul out of concern for the victims of the storms.

Rick Davis, McCain's campaign manager, emphasized Monday that all political activity will be suspended for the time being.
"We hope to regain our schedule at some point," Davis said.
Davis also said Target and FedEx will help Republicans send care packages to the Gulf region. Later in the week, delegates, staff and other volunteers will meet in Minneapolis, Minnesota, to assemble the care packages.
E-mail to a friend

CNN's Scott Anderson and Alexander Mooney contributed to this report.
All About John McCain • Republican Party • Hurricanes and Cyclones • Laura Bush