ST. PAUL, Minnesota (CNN) -- Sen. Joe Lieberman, the Democratic vice-presidential nominee in 2000, on Tuesday spoke up for Republican Sen. John McCain, saying the presumptive GOP nominee is capable of bringing both parties together to lead the country.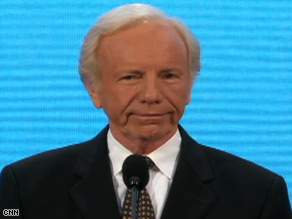 Sen. Joe Lieberman said he is supporting John McCain because "country matters more than party."
"I'm here to support John McCain because country matters more than party," Lieberman said at the Republican National Convention.
Lieberman, who has staunchly defended the Bush administration's execution of the war in Iraq, lost his Democratic primary in 2006. He then declared himself an independent and won the seat in the general election.
He has since continued to caucus with Democrats in the Senate, but maintained his support of the war effort and became an early backer of McCain's.

Watch Lieberman speak at the convention »
Lieberman alluded to Democratic nominee Sen. Barack Obama's campaign theme -- "Change We Can Believe In" -- while saying McCain is the candidate most likely to change the political climate in Washington.
Don't Miss
He cited McCain's bipartisan work on campaign finance reform, his role in helping create the 9/11 Commission and stance against wasteful government spending.
"Both of the presidential candidates this year talk about changing the culture of Washington, about breaking through the partisan gridlock and the special interests that are poisoning our politics," Lieberman said. "But, my friends, only one of them has actually done it."
Lieberman claimed that Democrats try to tie McCain to President Bush -- whose approval ratings are hovering around 30 percent -- despite knowing he has a record of independence and accomplishment. Obama's campaign has aired ads in which McCain, while seeking the Republican nomination, boasts of having voted for Bush's proposals more than 90 percent of the time.
"I am here to tell you what I think you know ... . Don't be fooled," Lieberman said. "God only made one John McCain, and he is his own man."
The senator from Connecticut called Obama "a gifted and eloquent young man who I think can do great things for our country in the years to come."
But he said Obama "has not reached across party lines to accomplish anything significant" during his years in the Senate.
E-mail to a friend

All About John McCain • Republican Party • Joseph Lieberman