By Roland Martin
CNN Contributor
Editor's Note: Roland S. Martin, a nationally syndicated columnist and Chicago-based radio host, is the author of "Listening to the Spirit Within: 50 Perspectives on Faith" and "Speak, Brother! A Black Man's View of America." Please visit his Web site.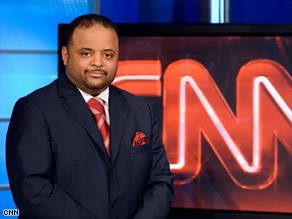 Roland Martin says teenage pregnancy is a bipartisan concern that needs to be addressed from all angles.
(CNN) -- It didn't take Republicans long -- and even some Democrats -- to try to dissuade the media from focusing on the news that Alaska Gov. Sarah Palin's 17-year-old daughter is five months pregnant and plans on marrying the father.
Aides to Sen. John McCain quickly took to the airwaves to deplore any conversation regarding Bristol Palin, saying the issue is private. Even Sen. Barack Obama made it clear that the children of candidates are off-limits.
But of course, that didn't keep some folks from trying to score political points.
"This is the pro-life choice. The fact that people will criticize her for this shows the astounding extent to which the secular critics of the pro-life movement just don't get it," Richard Land, president of the Southern Baptist Convention's Ethics and Religious Liberty Commission, told David Brody of the Christian Broadcast Network.
"Those who criticize the Palin family don't understand that we don't see babies as a punishment but as a blessing."
Now, for everyone on the left and the right, please, shut up for a moment and consider the broader issue here.
We have a crisis in America and Bristol Palin exemplifies that. She's an unwed teenager who is now pregnant, forced to raise a child far too soon.
She is a teenager who chose to have pre-marital sex, which I thought many of these same evangelicals deplored based on biblical reasons. She is a teenager who had unprotected sex, and should thank the Lord that the young man she was with didn't have a sexually transmitted disease.
According to The National Campaign to Prevent Teen Pregnancy, 46.8 percent of all high school students say they have had sex, which is a decrease from 54 percent.
Don't Miss
That's the good news. But we shouldn't be satisfied with almost half of our children making the decision to have sex. Many of them are doing so without any protection, and we have seen an explosion of STDs among teens in the country. In fact, Alaska has one of the highest rates of sexually transmitted diseases among teens.
I can't forget the young woman in the CNN documentary Black in America who talked about having sex for the first time, only to be infected with HIV. That one decision has altered her life in a significant way.
It's worthy to examine the issue because Gov. Palin said in 2006 that she was dead set against any federal funding for sex education, but was an avid supporter of abstinence-only funding.
But it's clear that abstinence-only didn't work in her own household. So, should she and her supporters re-examine their position?
On my CNN Radio show yesterday, Republican Rep. Marsha Blackburn, of Tennessee, wasn't too thrilled to discuss the issue of Palin's daughter. But when pressed, she said she still supports abstinence-only funding, and not sex education funding.
"I think that is the way we have to work with our children and you have to engage parents in this issue," she said. "This is something you talk about at the kitchen table and you sit down with your children."
But let's be honest. A ton of parents aren't having this conversation, so why not deal with it in the public policy arena?
As an evangelical, I think liberals and conservatives are wrong on this issue. The situation is so dire and prevalent that it's wrong for liberals to completely dismiss abstinence, and it's wrong for conservatives to refuse to accept birth control and condom education as part of a sex-education curriculum.
We desperately need comprehensive sex education that incorporates all of these issues if we are to attack the problem -- and enough of the blowhards on both sides who think their way is the only way. iReport.com: What do you think?
As America harnessed its resources to tackle an emerging hurricane on the Gulf Coast, these same politicos and activists tried to run away from a similar issue in St. Paul, Minnesota, that involves our children.
I don't give a flip about a politician, pro-choice or anti-abortion activist, or the implications of this story on the presidential chances of Sen. John McCain and Sarah Palin, or Sens. Barack Obama and Joe Biden.
What matters most -- and should be the priority of all -- are the thousands and thousands of young women who are dealing with these issues every day, many of whom don't have supportive parents with a good health care plan.
This is not a Republican issue or Democratic problem. We need to put aside the partisan B.S. and confront unplanned pregnancies. Let's do all we can to keep our kids from either having pre-marital sex or unprotected sex.
Then we won't have to deal with them choosing to have an abortion or not, or, as the Palins noted in their statement, seeing our children "grow up faster than we had ever planned" and having to confront "the difficulties of raising a child."
The opinions expressed in this commentary are solely those of the writer.
E-mail to a friend

All About Sarah Palin • Pregnancy and Childbirth • Family