By Ed Hornick and Carol Costello
CNN

(CNN) -- As Alaska Gov. Sarah Palin, Sen. John McCain's pick for vice president, makes her case to the convention Wednesday night, Republicans hope she will sway Democratic women toward their ticket.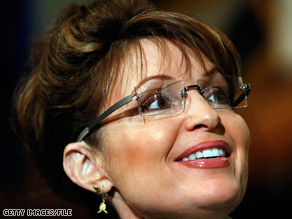 McCain announced that Palin, here in February, will be his running mate on the Republican presidential ticket.
Palin already has been working on that.
"It was rightly noted in Denver this week that Hillary [Clinton] left 18 million cracks in the highest and hardest glass ceiling in America, but it turns out the women of America aren't finished yet and we can shatter that glass ceiling once and for all," she said as McCain introduced her as his choice Friday.
But some of the most ardent Clinton supporters --- even those still loath to vote for Sen. Barack Obama -- found McCain's choice of Palin patronizing.

Watch more of Palin's comments »
"Well, first were just laughing. I mean laughing not in the sense of 'Oh my God, what has he done?' but "Does he think that's really going to work?'" Allida Black, a Clinton supporter for Obama, said.
"I mean does he think that women voters who are with Hillary is some Lego block ... you can take out a red one and put in a green one?"
She said Palin and Clinton have only gender in common. Palin is anti-abortion rights, belongs to the National Rifle Association and is a conservative Republican. And she's been critical of Clinton, calling the New York senator's charges of "sexist" news coverage -- whining.
"When I hear a statement like that coming from a woman candidate with any kind of perceived whine about the excess criticism or maybe a sharper microscope put on her, I think, man, that doesn't do us any good," Palin told Newsweek magazine in March.
That's not to say all Clinton supporters would be averse to a McCain-Palin ticket. A group called PUMA, which stands for "Party Unity My A**", were Clinton supporters -- both women and men --who are threatening to vote McCain.
The McCain camp has been aggressively courting those disaffected with Obama, especially after he announced Delaware Sen. Joseph Biden as his running mate.

Watch more on Palin's readiness to lead »
Just as the Democrats' convention was getting started in Denver, Colorado, last week, the McCain campaign and the Republican National Committee unveiled four TV ads geared toward Clinton supporters.
The most recent McCain ad involved the famous Hillary Clinton "3 a.m." spot and will be aired during the convention. The 30-second spot uses footage from Clinton's original ad and declares, "Hillary's right."
The ad, which ran in key battleground states and specifically in Denver last week, also goes a step further than the New York senator's original ad, in detailing what it claims are the national security threats the United States faces.
Clinton, speaking to a member of the New York delegation in Denver on August 25, said she was opposed to Republicans using her words against Obama.
But it is still unclear as to how many will go the way of the PUMA. Read more on the PUMA movement
A recent Rutgers University study said historically, women don't vote for a candidate because a woman is on the ticket. They tend to vote Democratic.
That happened in 1984 for former New York Rep. Geraldine Ferraro, the first female vice presidential of a major political party. Despite the historic nature of the race, her addition to Walter Mondale's ticket proved fruitless.
The Mondale-Ferraro ticket lost big time to President Ronald Reagan and George H.W. Bush that year: 525 electoral votes to Mondale's 13.
Reagan carried 49 out of the 50 states, with Mondale's only electoral votes coming from Minnesota -- his home state -- and the District of Columbia.
Ferraro's ties to New York, which is a notoriously blue state, were unsuccessful for the ticket.
In that race, 44 percent of Democratic women voters and 56 percent of their Republican counterparts voted in the presidential race; 51 percent of all voters were women, according to exit polling.
Twenty-four years later, there's another woman on a presidential ticket -- this time a Republican. It's something that Ferraro hopes will not bring sexism back into the campaign.
"I believe that people will look back and assess how Hillary was treated by the media during the campaign primaries. And it remains to be seen whether or not the ugly head of sexism -- in the media -- will raise its head again," said Ferraro on August 29, the day after Obama's speech at Invesco field.
"I have always said that I wish I would have never been the only woman, until now," she said last Friday.
But if Democratic women were swayed this year, it was toward a woman in their own party. iReport.com: Are you a woman backing Palin?
That woman was Hillary Clinton , and it wasn't because of her gender, but what they pointed to as her experience and fitness to lead the country.
Claudine Montano, initially a Clinton supporter, said last week at the Democratic convention that not many Clinton backers will support McCain after Clinton's rousing speech endorsing Obama.
"I think when they heard Hillary ... they will go with Obama," said Montano, a New Mexico resident who is not a delegate.
Pledged Clinton delegate Anne Price Mills, with tears in her eyes, said Clinton was "presidential" on August 26.
Price Mills, of Washington state, was a staunch Clinton supporter. As for her vote in November?
"Obama has two months," she said. "I won't vote for McCain, but [Obama] has to get me here, and I haven't connected with him." Read more on Clinton supporters on the fence
Palin has five children. Her 17-year-old daughter, Bristol, is pregnant. Palin recently had a Down syndrome baby. Anti-abortion groups and conservatives have praised her and her daughter's decisions to keep their babies.
Elder statesman of the evangelical movement, Focus on the Family founder James Dobson, released a statement lauding the Palins for acting in keeping with the group's policies and practices:
"We have always encouraged the parents to love and support their children and always advised the girls to see their pregnancies through, even though there will of course be challenges along the way. That is what the Palins are doing, and they should be commended once again for not just talking about their pro-life and pro-family values, but living them out even in the midst of trying circumstances," his statement said.

But an anti-abortion stance is unlikely to sway Democratic women.
A recent survey by Greenberg Quinlan Rosner Research shows that the issue of choice can have a large impact on the election.
The poll, conducted May 29-June 8, showed: Pro-choice is an issue that swings key blocs of women voters to Obama's side.
Obama gains 13 points among pro-choice independent women -- who make up 9 percent of the sample -- and 9 points among pro-choice Republican women, who account for 5 percent of the sample, according to the poll.
"Among pro-choice independent women, pro-choice Republican women, and liberal to moderate Republican women, the issue of abortion produces a larger advantage for Democrats than the economy, the war in Iraq, or health care," according to the Greenberg Quinlan Rosner/NARAL poll report.
Also, a recent New York Times article looked at working mothers and found both support and criticism that Palin might not be able to handle a big family and the role of vice presidency at the same time and reservations about her going back to work right after giving birth to a disabled baby.
E-mail to a friend

All About Sarah Palin • Hillary Clinton • Geraldine Ferraro