(CNN) -- The Republican National Convention got under way in earnest on Tuesday after a day spent nervously watching the Gulf Coast and Hurricane Gustav.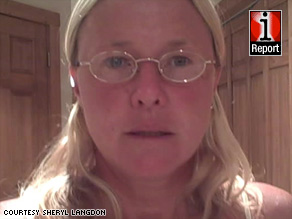 Sheryl Langdon says she was moved by Tuesday's speeches.
The speeches drew a strong response from CNN.com readers.
iReporter Sheryl Langdon, of Bedford, Indiana, said she was moved by the speeches, and that the Republicans got off to a good start under difficult circumstances.
"You have to open it up with a president who is unpopular, clearly it is a hard way to go and a hard hump to overcome and they did a marvelous job," she said.
Langdon was a Hillary Clinton supporter and said she has never voted for a Republican presidential candidate. She said she's supporting McCain this year because the Democrats dropped the ball. iReport.com: Speeches "a breath of fresh air"
Katy Brown, a 19-year-old college student from Charleston, West Virginia, said the speeches highlighted John McCain's biggest asset, which is experience.
"John McCain has that experience that America is looking for and needs," she said. iReport.com: McCain supporter pleased by convention
Many of the reactions posted on iReport.com came from people who were critical of the Republican Party. iReport.com: Share your thoughts on the convention speeches
Repeat iReporter Rick Seno, who's leaning toward voting for Green Party nominee Cynthia McKinney, said Republicans are embracing the politics of fear.
"Constantly bringing up 9/11, reminding us that terrorists are lurking behind every corner trying to kill us. Trying to frighten the public that gays are trying to get married and adopt children and teach in our public schools.
"Trying to make us afraid of illegal immigrants coming across the border, stealing our jobs and committing crimes," he said. "Republicans need to learn that you don't win elections by making people afraid. "
Jim Robertson, a former Clinton supporter from Jupiter, Florida, said it was strange that President Bush didn't speak in person.
"When a political party doesn't have their sitting president come to the convention or speak in prime time, that's red flag number one," he said. "There was no passion in his voice, the man could have at least looked like he read the script more than once."
But in a comment on the same post, iReport.com user GFTrueBlue countered that Bush would have been accused of not caring about people in the Gulf Coast if he had attended the convention.
"You folks who hate Bush so passionately should make up your mind as to what you want Bush to do... to be in the Gulf (as you criticized him so harshly for not being during Katrina) or to be at the RNC," GFTrueBlue wrote.
Below is a sampling of reactions from the iReport.com community. Some have been edited for length and clarity:
Crystal Dickson, of Paducah, Kentucky: "Does the McCain campaign really expect us to take Joe Lieberman seriously? This man obviously doesn't know what he believes. One minute he is a Democrat and the next he is backing the Republicans. I think they are grasping at straws here."
Anne Mazone, a member of the Texas delegation to the convention: "Tonight was great, it was about the business of getting John McCain and Sarah Palin elected, and we enjoyed it."
Cassandra, of Topeka, Kansas: "In all honesty I wish former Sen. Thompson had stayed in the race for president because he would receive my vote above all. But he dropped out and that was his choice. Now that I have looked at both parties and read about what their views are and what they want to happen in our country, my vote will go to McCain-Palin."
David Kronmiller, of North Hollywood, California: "They spoke to their base very, very strongly, but they did not really address the needs of independents."
E-mail to a friend