From Ted Barrett and Kate Bolduan
CNN
WASHINGTON (CNN) -- Sen. Joe Lieberman's speech before the Republican National Convention on Tuesday night could cost him the chairmanship of a key Senate committee, a top Senate Democratic aide told CNN.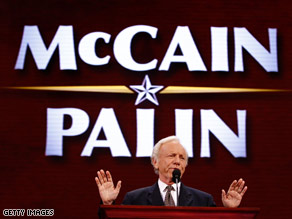 Sen. Joe Lieberman's speech to the Republican National Convention on Tuesday angered some Democrats.
During the speech, the Connecticut senator praised GOP presidential candidate Sen. John McCain and criticized Democratic nominee Sen. Barack Obama.
"The Democratic Caucus will reassess the situation with Sen. Lieberman after the election," Jim Manley, a spokesman for Senate Majority Leader Harry Reid, said Wednesday.
Lieberman, the Democratic nominee for vice president in 2000, now calls himself an "independent Democrat," but he remains a member of the Senate Democratic Caucus, which allows him to head the Homeland Security and Governmental Affairs Committee.
Democrats have grumbled for months about Lieberman's outspoken support of McCain, and both Reid and Obama have warned Lieberman to curb his public criticism of Obama.
iReport.com: What did you think about Lieberman's speech?
"What we saw last night was a culmination of provocative efforts in recent months," said a Democratic leadership aide.

Watch Lieberman endorse the McCain-Palin ticket »
Don't Miss
Democrats, who with Lieberman's support control the chamber by a narrow 51-49 margin, are unlikely to go a step further and boot Lieberman from their caucus, although the Democratic leadership aide didn't rule out that punitive step if Democrats pick up several seats in November.
During his address to Republicans, Lieberman said, "Sen. Barack Obama is a gifted and eloquent young man who I think can do great things for our country in the years ahead, but, my friends, eloquence is no substitute for a record, not in these tough times for America."
That comment, and Lieberman's suggestion that Obama had not reached across the aisle to work with Republicans in the Senate, drew the ire of Democrats, who accused their 2000 vice presidential nominee of lying about their nominee.
"Joe Lieberman ought to be ashamed of himself for some of the things he said tonight, not as a Democrat but as an American," Obama adviser Robert Gibbs said.

Watch Gibbs blast Lieberman »
"I think [Lieberman] owes it to the American people to look into the camera and tell them the truth," he added.
After Lieberman completed his speech, Reid let it be known Tuesday night that he thought Lieberman had gone over the line.
"As the American people have made very clear, the last thing this country needs is another four years of the same old failed Bush-McCain policies of the past," Manley said.
Reacting to Lieberman's comments, New Mexico Gov. Bill Richardson, a former Democratic presidential candidate, called the independent senator's comments "sad."

Watch Richardson say he was "surprised" by Lieberman »
"I've known Joe Lieberman for a long time," Richardson said. "I'm just frankly so surprised at the almost violent transformation he's taken.

"You know, it's a little bit sad, because Joe Lieberman has been a distinguished public servant."
E-mail to a friend

All About Joseph Lieberman • Harry Reid • Barack Obama