ST. PAUL, Minnesota (CNN) -- In what is expected to be one of the most dramatic moments of the convention, Republican vice presidential pick Sarah Palin takes the stage Wednesday night to introduce herself to the country.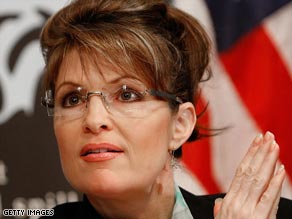 Sarah Palin takes center stage at the Republican convention Wednesday night.
In just days, the Alaska governor has gone from a little-known politician to one of the most talked about women in the country, after being named to the GOP ticket and after news broke of her teen daughter's pregnancy.
Palin's address marks her chance to define herself to the American public and prove that she has the knowledge and judgment to sit down the hall from a 72-year-old president should John McCain be elected.
"I think this is her grand opportunity," said David Gergen, a former presidential adviser and CNN's senior political analyst. "It's an opportunity to introduce herself to American voters who have only heard a few things about her, barely saw her on Friday, and now have heard a lot of rumors and controversy."
A top aide to Palin said the Republican vice presidential candidate will highlight her record as a governor and mayor of Wasilla, Alaska, and will also call for reform in Washington in her speech Wednesday.

Watch more on Palin's big speech »
"She will speak as a governor, a former mayor and someone with both hands on the steering wheel of America's energy economy," Palin aide Tucker Eskew said. "She will detail her record of shaking up the status quo in Alaska and standing up to entrenched interests to put the government back on the side of the people. She will make the case for Sen. McCain as the only candidate who has fought for America and the best man to protect us in dangerous times." iReport.com: Your thoughts on Palin's speech
A senior adviser to McCain said the speech has three goals: to leave no question about which ticket has a better hold on the economy, to make the case for McCain and to showcase Palin as a woman who is likeable, funny and smart.
"Everyone in the staff has fallen in love with her," said this aide.
Democrats, however, are saying Palin's speech could be a tough sell.
"I know her. We serve as governors together. She's personable, she's engaging, she's had probably a good start as a governor," said New Mexico Gov. Bill Richardson.
"But to trust her as a vice presidential candidate without that national security experience is going to be very tough. And can she do it? Can she overturn that in one speech? I think it's going to be very difficult."
Palin is slated to speak in the prime time 10 p.m. hour. The speech will be carried live on CNN and CNN.com.
On Wednesday morning, Palin toured the podium at the convention site in St. Paul, hours before her highly anticipated address.
The Alaska governor walked through the nearly empty hall and spent about 10 minutes checking out the podium where she'll give her acceptance speech as McCain's vice presidential nominee.
Palin, 44, told reporters she feels "great."
"I'm excited to speak to Americans. This will be good. It's about reform," she said.
Most of Palin's government experience is local: two terms on the city council and two terms as mayor of Wasilla -- a town near Anchorage with a population of 7,000. She's been governor for less than two years, and up until last Friday's announcement, the mother of five was a little-known figure on the national scene.
"What she has to do is come across as someone who's capable, confident, serious and even though she is not by any measures really experienced, she's a fast learner," said Bill Schneider, a CNN senior political analyst. "She cannot look like a deer caught in the headlights ... she's got to look like she's in charge, she's capable of taking over the country at a moment's notice."
Former presidential contender Fred Thompson, who delivered a well-received speech Tuesday night, said he's behind Palin as vice president, but he wants to know more about her.

Watch what Thompson thinks about Palin »
"I want to hear her talk about where she thinks this country is going. I want to hear her talk about the kind of country she thinks she grew up in, whether or not she's proud of her country. Why she got into politics, what motivated her, what her priorities are, what does she think about things like taxes general," he said.
At the convention, delegates are singing Palin's praises as they await her big speech.
"I think she's fantastic. I think she's just what the ticket needed, and I think she complements Sen. McCain very well. She's already a proven leader, and she's taken on incumbents in the past, and she has what it takes. She's a young leader, and very impressive and it's nice to have a woman on the ticket," said Arizona delegate Paulina Vazquez Morris.
Dr. Sandra Chase, a New York delegate and member of the RNC credentials committee, said she's looking forward to the effect on the party.
"I'm excited to hear her. I think she's going to energize the base," he said.
E-mail to a friend

CNN's Dana Bash, Sandra Endo, Kristi Keck, John King, Alex Wellen and Jessica Yellin contributed to this report.
All About Sarah Palin • Republican Party