(CNN) -- Democrats accused fellow lawmaker Sen. Joe Lieberman of misleading the Republican National Convention when he addressed them in a speech Tuesday night.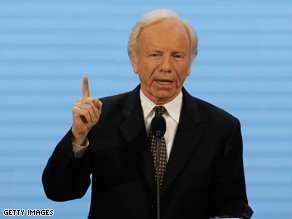 Joe Lieberman felt the brunt of Democratic attacks after he said Barack Obama didn't reach across party lines.
A senior Barack Obama campaign adviser said Lieberman flat-out lied when he told delegates that Obama never successfully reached across party lines.
"Joe Lieberman ought to be ashamed of himself for some of the things he said tonight, not as a Democrat but as an American," adviser Robert Gibbs said on "Larry King Live."
Lieberman, an independent senator from Connecticut who was the Democratic vice presidential candidate alongside Al Gore in 2000, has thrown his support behind John McCain, a longtime friend.
Lieberman urged Democratic and independent voters to make a change and vote for a McCain because, he said, he would do whatever it took to help the American public. iReport.com: Do you agree with Lieberman?
Lieberman attacked Obama's rhetoric, saying "eloquence is no substitute for a record."
"In the Senate, [Obama] has not reached across party lines to get anything significant done, nor has he been willing to take on powerful interest groups in the Democratic Party," Lieberman said in his speech.

Watch Lieberman's speech »
Don't Miss
Gibbs stressed that it was a "flat-out lie" that Obama hasn't reached across party lines during his time in public office. Gibbs cited Obama's work with Sen. Richard Lugar, R-Indiana, to keep nuclear weapons out of the hands of terrorists and with Sen. Tom Coburn, R-Oklahoma, on the government budget.
Gibbs blamed what he called lies like those perpetrated in Lieberman's speech for disillusioning voters and making them cynical of the government.
"I think [Lieberman] owes it to the American people to look into the camera and tell them the truth," Gibbs said. Watch New Mexico Gov. Bill Richardson's take on Lieberman's speech

Senate Majority Leader Harry Reid spokesman Jim Manley said Reid too was unhappy with the tone of Lieberman's speech.
"As the American people have made very clear, the last thing this country needs is another four years of the same old failed Bush-McCain policies of the past," Manley said.
Obama campaign spokesman Tommy Vietor said in a statement that the convention speeches also showed how out of touch the McCain campaign and Republicans are with the American people, neglecting to talk about one of the country's biggest problems: the economy.
"At a time when millions of Americans are struggling like never before to pay their mortgage, their medical bills and their gas bills, tonight's speakers at John McCain's Republican convention proved how out of touch their candidate is by saying not one word about his plans to put our economy back on track and provide real relief to middle-class families," Vietor said. "Apparently, John McCain's belief that we've made 'great progress' economically over the last eight years means he doesn't have to offer any plans at all to fix our ailing economy."
The Obama campaign also used a short speech delivered by President Bush via satellite to once again tie McCain to the unpopular president, as it has attempted to do throughout this election season.
"Tonight, George Bush enthusiastically passed the torch to the man who's earned it by voting with him 90 percent of the time and who will continue this president's legacy for the next four years: his disastrous economic policies, his foreign policy that hasn't made us safer and his misguided war in Iraq that's costing us $10 billion a month," Obama campaign manager David Plouffe said.
"The man George Bush needs may be John McCain, but the change America needs is Barack Obama."
E-mail to a friend

All About John McCain • Barack Obama • Joseph Lieberman • Republican Party • Democratic Party