NEW YORK (CNN) -- The likelihood that terrorists will be able to target the United States with a nuclear weapon is increasing, a former senator testified before a congressional committee Wednesday.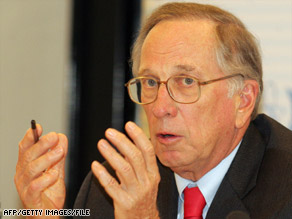 Former Sen. Sam Nunn says he's concerned about nuclear materials in Pakistan, citing political instability.
"The risk of a nuclear weapon being used today, in my view, is growing and not receding," former U.S. Sen. Sam Nunn told the Commission on the Prevention of Weapons of Mass Destruction Proliferation and Terror, a bipartisan panel that aims to prevent terrorist attacks.
The commission met in New York, just a few blocks from the site of the World Trade Center, which was devastated by terrorists on September 11, 2001.
"Terrorists are clearly seeking nuclear weapons," said Nunn, who heads the Nuclear Threat Initiative. "There can be little doubt that if they acquire weapons, they will use them."
Nunn and CNN founder Ted Turner formed the Nuclear Threat Initiative, which aims to reduce the spread of nuclear, chemical and biological weapons, as well as the likelihood of their use.
Nuclear weapons materials are in more than 40 nations, and efforts to secure or eliminate the materials will take decades at the current pace, Nunn said.
Many of the materials are left over from the Cold War, but some come from more recent entries into the global nuclear club, Pakistan in particular, he said.
"Russia has the greatest quantity of nuclear weapons and material, but Pakistan, in my view, is the greatest danger because of the great instability in that country," Nunn said.
Nunn said Pakistan keeps its nuclear arms under heavy guard, but political instability in the country and beliefs that al Qaeda has reconstituted itself in the Pakistani mountains raise concerns.
The former Democratic senator from Georgia also pointed to a rising threat from countries such as Iran, which seeks to enrich material for nuclear power technology but could transform the material into weapons. Iran has insisted that its nuclear program is for peaceful purposes only.
New York Mayor Michael Bloomberg also testified before the panel.
"We're currently engaged with enemies who are bent on our wholesale destruction, who won't hesitate to unleash weapons of enough force and magnitude to kill millions of people and wreak untold chaos," Bloomberg said. "I can't give you a great deal of comfort to say that I'm confident the federal government will be able to keep weapons of mass destruction from entering."
To prevent such an attack, Bloomberg said, federal authorities need to continue building relationships internationally to intercept plans to steal nuclear weapons.
"Technology is wonderful, and you certainly want to use it, but it requires boots on the ground and speaking the language," he said. "The number of foreign-language speakers in our federal security agencies is abominably low. Al Qaeda could publish papers saying 'We're going to attack,' and they wouldn't know about it, because they can't read it."
E-mail to a friend

All About Sam Nunn • Nuclear Weapons • Al Qaeda • Pakistan