ANCHORAGE, Alaska (CNN) -- A former ethics adviser to Alaska Gov. Sarah Palin warned in July that firing her public safety commissioner would become a "grave concern" for her administration.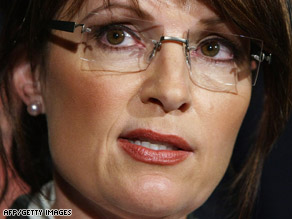 Gov. Sarah Palin is fighting allegations she improperly tried to force the firing of her then brother-in-law.
Wevley Shea, a former U.S. attorney and fellow Republican, urged Palin to apologize to former Commissioner Walt Monegan and fire anyone on her staff who discussed her former brother-in-law, state Trooper Mike Wooten, with the commissioner.
"Your 'political advisers' have given you poor counsel; the situation is now grave," Shea wrote in a July 24 letter to the governor. "I recommend the following action 'now' to restore your credibility and Alaska's bright future with you."
Palin, now the Republican nominee for vice president, is battling allegations that she and her advisers pressured Monegan to fire Wooten. Palin has said she fired Monegan over budget issues and denies any wrongdoing, calling Wooten a "rogue trooper" who threatened her family during his divorce from the governor's sister.
Shea, who says he's an admirer of Palin's, said Thursday that the governor's aides are trying to stall an investigation into Monegan's dismissal by the state Legislature.
"The problem, in my opinion, is that there has been out-and-out cover-up and misleading statements by staffers in the governor's office," he said. "And the parallel that I tried to draw is, you know, the problem with the firing or terminating of the U.S. attorneys."
The governor has not publicly answered questions since Republican presidential nominee John McCain picked her as his running mate August 29, and her representatives did not immediately return phone calls seeking comment Thursday.
Shea had acted as an informal ethics adviser to Palin, but he told CNN that his advice on the Monegan firing was unsolicited.
"If they would have done what I said, I think it would have been over," he said.
He also recommended that Palin and her husband apologize "for any overreaching or perceived overreaching" regarding Wooten, who was involved in a child custody dispute with the governor's sister.
"Trooper Wooten was/is a grave public safety threat to your family. It was/is a very personal, emotional matter, which was either mishandled or covered up by certain individuals," Shea wrote. But, he added, "I am extremely concerned about certain 'wolves' if my recommended action is not taken immediately."
The state Legislature launched an investigation into Monegan's dismissal in July. In August, Palin disclosed that members of her staff had called state police officials nearly two dozen times to discuss Wooten and pledged to cooperate with the inquiry.
But since she became McCain's running mate, her representatives have attacked the investigation as a "political circus" and argued that it should be conducted by the state Personnel Board.
Lawmakers have scheduled a Friday meeting on whether to subpoena a list of top advisers in their investigation, and the state Personnel Board was to meet Thursday afternoon to discuss Palin's request for a separate probe.
The Legislature's inquiry is scheduled to be completed by October 10. But the state attorney general's office is now warning that the administration is likely to challenge any subpoenas in court.
Shea said he did not believe that Palin was pushing for the Personnel Board inquiry, but "there may be tactical reasons to do that from a legal standpoint." However, he said, the board would be unlikely to take an "independent look" at the conduct of Palin's aides.
"The Personnel Board, number one, is appointed by the governor," he said. "Number two, it's a delaying tactic, because what the Personnel Board then has to do is appoint another investigator, which the attorney general would appoint this time. And who does the attorney general work for? The attorney general is appointed by Gov. Palin."
"Bluntly and to the point, we think there is a legitimate concern that this investigation is no longer being conducted in a fair manner -- and therefore is potentially violative of Alaska's constitutional due process safeguards," Senior Assistant Attorney General Mike Barnhill wrote in a letter Tuesday to the bipartisan committee that launched the investigation.
State Sen. Hollis French, the Anchorage Democrat managing the investigation, did not immediately return a call seeking comment.
French has drawn fire from Palin's supporters for suggesting that the investigation could yield an "October surprise" for the Republican ticket and that officials in her administration may have violated state law by obtaining confidential information from Wooten's personnel files.
Complaints about Wooten from Palin and her family have been under scrutiny since the governor's July firing of Monegan. Monegan has said that no one directly demanded Wooten's firing but that his refusal to sack the trooper led to his dismissal.
Palin placed one aide, Frank Bailey, on leave after disclosing a tape-recorded call in which Bailey discussed Wooten's case with a state trooper lieutenant.
Shea blamed the controversy on "yes people" in Palin's administration who he said were "doing what they think makes them look better in the governor's eyes."
Wooten and Palin's sister, Molly McCann, began divorce proceedings in 2005 after four years of marriage. Palin, then a private citizen, and other members of her family filed several complaints about Wooten with the state police, accusing him of threatening his in-laws and other improper conduct.
Wooten was suspended for five days in March 2006 after state police commanders determined that he had used a Taser on his 10-year-old stepson "in a training capacity;" drove his patrol car while drinking beer and illegally shot a moose using his wife's hunting permit.
As early as October 2005, more than a year before Palin became governor, a judge hearing the divorce case warned her relatives against trying to get Wooten fired, according to court records.
Superior Court Judge John Suddock said the family appeared to be putting Wooten's job at risk at a time when he would be required to pay child support and warned them "not to slay the goose that lays the golden egg."
And in his final divorce decree the following January, Suddock warned against the "disparagement" of Wooten by his ex-wife's family and said it could lead him to transfer custody of their children if it continued.
E-mail to a friend

CNN's Randi Kaye, Matt Smith, Susan Chun and Traci Tamura contributed to this report.
All About Sarah Palin • John McCain