ANCHORAGE, Alaska (CNN) -- Alaska lawmakers voted Friday to subpoena Gov. Sarah Palin's husband, several aides and phone records in their investigation into Palin's firing of her public safety commissioner, setting up what one senator called a "branch-versus-branch smackdown."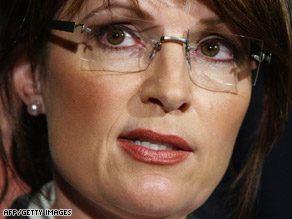 Gov. Sarah Palin is fighting allegations she improperly tried to force the firing of her former brother-in-law.
Todd Palin has been a "principal critic" of his wife's ex-brother-in-law, state Trooper Mike Wooten, and had "many contacts" with Department of Public Safety officials about his status, said Steve Branchflower, the former prosecutor hired by the state Legislature to investigate the firing.
Sarah Palin, now the Republican nominee for vice president, is battling allegations that she and her advisers pressured then-Public Safety Commissioner Walt Monegan to fire Wooten and that Monegan was terminated when he refused.
Palin has said she fired Monegan over budget issues and denies any wrongdoing.
Branchflower said 16 of the 33 people he planned to interview have given statements. But since last week, when Palin's attorneys began to argue that the state Personnel Board should handle the investigation, numerous witnesses have refused to cooperate.
"While we will hopefully get over this little bump in the road, there may arise others," he said. "And so the subpoena is always a good thing to have standing by."
Palin attorney Thomas Van Flein told reporters after the vote that the Democratic lawmaker managing the investigation, state Sen. Hollis French, "has partisan motives for doing this." And Palin's lieutenant governor, Sean Parnell, repeated claims that the investigation was "a political circus."
"Using subpoenas like this looks like an abuse of power, and it's become a circus," Parnell said. Friday's action goes "well beyond the pale of a legislative committee's normal responsibilities," he added.
Palin's lawyers say the investigation -- which the Legislature commissioned on a bipartisan basis in July -- belongs before the state Personnel Board, which met to consider the request Thursday.
In a lengthy memo distributed to reporters, the McCain campaign said Palin "remains committed to cooperating with a fair, non-partisan investigation." But French is a supporter of Sen. Barack Obama, the Democratic presidential nominee, and the McCain campaign accused him of turning the investigation into a partisan attack "to achieve his and the Obama campaign's political agenda."
"With today's action, the investigation has devolved into a full-scale political circus overseen by what amounts to a discredited kangaroo court," the campaign said.
French largely declined to comment after the hearing, but told CNN he was "absolutely not" working on behalf of the Obama campaign.
One Republican senator -- Charlie Huggins, of Palin's hometown of Wasilla -- joined the two Democrats on the Senate Judiciary Committee on a 3-2 vote supporting the subpoenas. Huggins said he did not believe the investigation would amount to a "hill of beans," but said the truth should come out, and "the sooner the better."
Republican state Senate President Lyda Green -- an outspoken critic of the governor, also from Wasilla -- told CNN that she would approve the subpoenas.
Green said Palin had the authority to fire Monegan "for no reason." But she said her administration's continued contacts with Monegan's department about her ex-brother-in-law raised questions that need to be explored.
"We had continuing pressure from within the administration to reinvestigate, and at some point, they were told to give up -- and they did not," she said.
Palin herself was not on the list Branchflower presented to the House and Senate judiciary committees, but lawmakers have said they hope she will be able to talk to them during the probe. They have set an October 10 date for completing the investigation -- a date moved up three weeks after Palin became Sen. John McCain's running mate.
Branchflower, a former Anchorage prosecutor, asked lawmakers to subpoena 10 members of Sarah Palin's administration as well as the phone records for suspended Board and Commissions Director Frank Bailey, who was recorded in February discussing Wooten's status with a state police lieutenant. He also asked lawmakers to subpoena the employee of a worker's compensation insurance firm who handled a claim Wooten filed in 2007.
But he added that no witnesses have said Palin directly told anyone, "I want that guy fired."
Wooten and Sarah Palin's sister divorced in 2005. The governor and her family have complained extensively about him since then, describing him as a "rogue trooper" who threatened family members, and say they brought him up to state officials as a possible threat to the governor's security.
In 2006, Wooten was suspended for five days for using a stun gun on his 10-year-old stepson "in a training capacity"; drinking beer while driving his patrol car; and illegally shooting a moose using his wife's permit. In papers filed with the state Personnel Board, the governor has said she was unaware of Wooten's punishment until after Monegan's dismissal.
In addition to Todd Palin, the subpoenas cover 11 members of the Palin administration, including the governor's chief of staff, deputy chief of staff and executive secretary; and Frank Bailey, an official suspended in August after Sarah Palin disclosed he had called a state police lieutenant to discuss Wooten.
Branchflower also requested a subpoena for Bailey's phone records to determine whom he called before and after that February 2008 call. The last subpoena was for Murlene Wilkes, an insurance adjuster who was involved in handling a worker's compensation claim Wooten filed.
Sarah Palin once pledged to cooperate with the investigation. But aides are refusing now because the investigation has become a "circus," said Parnell, the lieutenant governor.
Republicans unsuccessfully have asked to get French, the state senator running the investigation, removed from the probe after he suggested in an ABC News interview that the case could produce criminal charges or an "October surprise" for the GOP ticket.
On Friday, Republican state Sen. Gene Therriault questioned whether Branchflower was being steered toward or turned away from particular witnesses after French said there was no "political will" to subpoena Palin's former chief of staff.
"Something is fishy here," Therriault said.
He said the decision to pursue subpoenas means "we are heading for a branch-versus-branch smackdown."
E-mail to a friend

CNN's Matt Smith, Drew Griffin, Kathleen Johnston, Jessica Yellin and Traci Tamura contributed to this report.
All About Sarah Palin • Todd Palin • John McCain