WASHINGTON (CNN) -- Sens. John McCain and Barack Obama on Monday both blasted regulators and managers for failing to head off the financial woes rocking Wall Street and called for an overhaul of the rules governing financial institutions.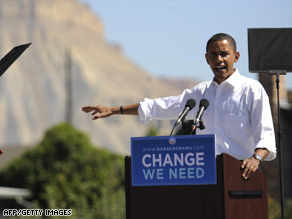 Sen. Barack Obama says Monday in Grand Junction, Colorado, that regulators weren't "minding the store."
The presidential nominees' calls for reform came as Lehman Brothers, a 158-year-old investment bank that has been a pillar of Wall Street, announced Monday it was filing for bankruptcy, while Bank of America said it was buying another Wall Street institution, Merrill Lynch.
Lehman Brothers has been hurt by losses in the real estate market, and its stock value has declined 94 percent this year. Merrill Lynch also has been struck by real estate losses.
The problems with Lehman Brothers and Merrill Lynch erupted as financial markets were still recovering from the government takeover of mortgage giants Fannie Mae and Freddie Mac. Both institutions had experienced troubles as a result of the crisis in the mortgage industry caused by a record number of defaults and foreclosures.

Watch why Lehman Brothers got into trouble »
Obama, the Democratic presidential nominee, blamed the turmoil on Wall Street, saying it's "more evidence ... that too many folks in Washington and on Wall Street weren't minding the store."
"For eight years, we've had policies that have shredded consumer protections, that have loosened oversight and regulation, and encouraged outsized bonuses to CEOs while ignoring middle-class Americans," the Illinois Democrat said during a rally in Grand Junction, Colorado. "The result is the most serious financial crisis since the Great Depression."
Obama has called for modernizing regulations "to suit a 21st-century market" to protect investors and consumers.
McCain, the Republican presidential nominee, told supporters in Jacksonville, Florida, that the problems facing Wall Street would not occur again if he became president.
"You know that there's been tremendous turmoil in our financial markets and Wall Street. People are frightened by these events," McCain said. "Our economy -- I think still, the fundamentals of our economy are strong -- but these are very, very difficult times. And I promise you we will never put America in this position again."

Watch McCain discuss "difficult times" »
"We will clean up Wall Street, we will reform government," the Arizona Republican declared, adding that a top priority of his administration would be to "replace the outdated patchwork quilt of regulatory oversight and bring transparency and accountability to Wall Street." Debate the economy issue! Join The Forum
McCain's running mate, Alaska Gov. Sarah Palin, echoed his call for reform.
"Guys and gals, our regulatory system is outdated and needs a complete overhaul. Washington has ignored this. Washington has been asleep at the switch and ineffective, and management on Wall Street has not run these institutions responsibly and has put companies and markets at risk," Palin said during a rally in Golden, Colorado. "They place their own interests first instead of their employees and the shareholders who actually own these companies."
Sen. Joe Biden, the Democratic vice presidential nominee, jumped on McCain's statement that the economy was "fundamentally strong."

Watch Biden say McCain "doesn't get it" »
"John McCain said, 'It's easy for me to be in Washington and frankly be somewhat divorced from the challenges that people have day to day.' He's right. If all you do is walk the halls of power, all you'll hear is the wants of the powerful," the Delaware Democrat told supporters in St. Clare Shores, Michigan.
"Ladies and gentlemen, I could walk from here to Lansing, and I wouldn't run into a single person who thought our economy was doing well -- unless I ran into John McCain. ... I don't doubt that John cares. He just doesn't think. He doesn't think that we have any responsibility to help people who are hurting," Biden said.
The news of more troubles on Wall Street comes as voters place the economy as their No. 1 concern. More than half, 56 percent, of voters surveyed September 5-7 in a CNN/Opinion Research Corp. poll placed the economy as the most important issue.

Watch why the economy worries voters »
The poll, which involved interviews with 1,022 adults, had a margin of error of plus or minus 4.5 percentage points.
If economic problems continue to dominate the headlines, they could help Obama in the tight race for the White House, the recent CNN/Opinion Research poll suggested.
According to the poll, Obama was viewed as being better at handling economic issues by 52 percent of the voters surveyed. In comparison, McCain was viewed as better on economic issues by 44 percent. The margin of error on that question was plus or minus 4.5 percentage points.
E-mail to a friend

All About Lehman Brothers Inc. • Merrill Lynch & Co. Inc.