By John King
CNN Chief National Correspondent
PEMBROKE PINES, Florida (CNN) -- It is a few minutes after 8 a.m., yet a steady crowd streams into the Century Pines Jewish Center, a Conservative synagogue tucked into a Broward County retirement community.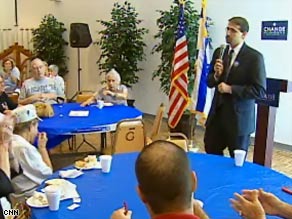 Dan Shapiro, a Middle East policy adviser to the Obama campaign, works to win voters at a Florida synagogue.
The line for coffee and bagels stretches across the room, and it's about 20 minutes behind schedule when Halie Soifer, the Barack Obama campaign's director of Jewish outreach in Florida, grabs a microphone and starts the program.
A campaign button on her lapel says, in Hebrew, "Barack Obama '08" and Soifer explains the agenda this way: "We are here today to talk about Sen. Barack Obama and Joe Biden's record, and to ensure that Baruch Obama is elected the next president of the United States."
Her use of the Hebrew name "Baruch" brings applause and laughter. The heavy turnout showed Democratic enthusiasm, but several of those on hand said they were former Hillary Clinton supporters and some of their friends were still slow to warm to Obama.
Some said they wondered of Obama was perhaps too cerebral, and not tough enough to win a hotly contested race.
"He has to get specific -- and tell the American people, 'Let's wake up, this is what is happening,' " a man in a New York Yankees T-shirt said during a question and answer session. "If not, he is going to lose -- he is going to lose."
South Florida Jews are a loyal Democratic base, and critical to the party in close statewide elections in the state. In Broward, Palm Beach and Miami-Dade counties, the Obama campaign is working aggressively to try to match or exceed the big margins put up by Al Gore in 2000 and John Kerry in 2004.

Watch why Florida's Jewish vote is so important »
But competition is intense this year, and Republicans see an opening to court these generally reliable Democratic voters.
Exhibit A in the GOP case are remarks Obama made in July 2007 during a primary debate sponsored by CNN, when he said he would be willing, in his first year in office, to sit down without preconditions with the president of Iran and other leaders of so-called rogue nations.
Republican Jewish Coalition newspaper ads call Obama's position naïve. Many of the Jewish voters CNN spoke to in the course of two days in South Florida reported they received mailings or phone calls reminding them of Obama's words and other positions Republicans believe make him vulnerable with voters who put Israel's security high on their priority list.
Don't Miss
The Obama campaign presents a more nuanced position, saying Obama favors aggressive diplomacy with Iran over its nuclear program and other issues but would not agree to high-level meetings unless and until progress warranted such a step.
Dan Shapiro, a top Middle East policy adviser to the campaign, raised the issue in his remarks to the synagogue audience.
"You may hear and you may see ads or see rumors that Barack Obama wants to go and have coffee with [Mahmoud] Ahmadinejad, the president of Iran," Shapiro said, "Not true. Not true. Not true. However, as a principle he is prepared to have the United States meet directly with the appropriate Iranian leaders in properly prepared talks."
Shapiro had strong praise for Democratic vice presidential candidate Joe Biden, calling him a longtime friend of Israel in the Senate.
He worked in a dig at GOP running mate Sarah Palin, the Alaska governor, saying that when she was tapped by John McCain the Democratic campaign scoured the public record looking for evidence of her views on Middle East issues.
"We couldn't find any," Shapiro told the synagogue crowd. "I was going to say the record is paper-thin, but it is kind of an insult to paper. There is no record."
At GOP headquarters in Delray Beach, in neighboring Palm Beach County, Jewish voters are among those on the contact lists used in a busy phone-banking operation -- a room filled on this day with home-schooled children whose parents bring them in once a week or so to help the Republican effort.
The majority leader of the Florida House, Rep. Adam Hasner, is a key McCain surrogate here, helping coordinate an outreach program he believes will make significant dents in the traditional Democratic base.
"We do know that he wants to sit down with Ahmadinejad," Hasner told CNN in an interview.
"John McCain has a long, proven track record on his support for the safety and security of Israel and I think that is going to be very important to the Jewish community.
"And this is a year when more Jews are going to be voting Republican than ever before. Republicans don't expect to win the Jewish vote. But they believe if McCain can pull 40 percent or more of the vote in Palm Beach and Broward counties he will be in good shape to carry the state because of Republican strengths elsewhere."
At the Boca diner in Boca Raton, there is evidence of McCain inroads.
Jules Weiss says he voted Democratic in 2000 and 2004 but won't this time because he thinks the Democratic ticket is in the wrong order.
"It is just ludicrous to me to have a neophyte for president and the experienced one as his assistant," Weiss said. "That just doesn't make sense. You are not going to put an apprentice as chief executive officer of a large corporation. He needs a lot of learning and training."
But Ruth Goldberg says Obama will get her vote despite profound reservations. She does not think he is ready, either, but does agree with the Democratic line that electing McCain would result in what amounts to a third Bush term.
"It is a very difficult thing," Goldberg said. "I really don't want Obama, but I think that is what we have to do if we don't want Bush again. It is that simple, right?"
Seven weeks to Election Day and Florida is once again in the thick of a fight that is fierce, and anything but simple.
E-mail to a friend

All About Florida • U.S. Presidential Election