By Jonathan Mann
(CNN) -- You can't find it on a map, you'll never see it on a postcard and forget trying to book a tour. But it may be the most memorable monument to the current U.S. election campaign.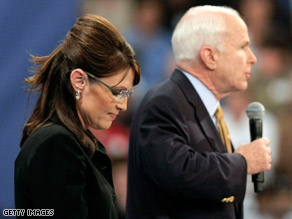 Republican Sarah Palin, pictured here with John McCain.
It's the "Bridge to Nowhere." Actually the bridge was never built, that wasn't its official name and a lot of what's being said about it isn't true, either. And yet, it's been coming-up almost daily in connection with the new star of U.S. politics: Alaska governor and Republican vice-presidential candidate Sarah Palin .
The bridge was supposed to go somewhere. Barely.
It was to connect Ketchikan, Alaska (population 8, 000) to the island and airport of Gravina, Alaska (population 50). They're tiny towns but the lawmakers and engineers who proposed the project dreamed big -- the structure was to be taller than New York's Brooklyn Bridge and nearly as long as San Francisco's Golden Gate.
The cost was estimated at $400 million, a sum so startling for a project so silly that it became infamous as a symbol of Washington's wasteful spending -- the kind of thing that Republicans love to hate.
Still, when Sarah Palin was running for governor of Alaska, the project promised to create a lot of Alaskan jobs with a lot of Washington's money. She supported it.
There was so much public outcry, though, that the U.S. Congress eventually refused to fund it. When Palin was elected state governor in 2006, she decided not to spend her own taxpayers' money on it either. The Bridge to Nowhere went from the drawing board to the dustbin.
Then, three weeks ago, Palin was chosen as John McCain's running mate. She boasted that day that she "told Congress, thanks but no thanks on that Bridge to Nowhere."
She's said it repeatedly ever since and the McCain campaign put her putative refusal into its ads on TV. It's offered as proof that she's a principled woman who won't waste taxpayers' money.
For a time, the Democrats tried to convince voters that Palin didn't cancel the bridge until after Congress already had.
But that explanation hasn't stopped the story or hurt Palin, and the country's attention has moved on. Both campaigns are accusing each other of lying about the candidates' records and remarks in a number of ways.
Palin's record as a small-town mayor and then a state governor is full of the kinds of anecdotes and petty intrigues common to a lot of political careers.
Her opposition to the Bridge to Nowhere is different because it became a centerpiece of the Republican presidential campaign. And because before she was opposed to the bridge, she was all for it.
E-mail to a friend

All About Democratic Party • Barack Obama • John McCain • Republican Party