By John King
CNN Chief National Correspondent
DENVER, Colorado (CNN) -- After decades as a Democratic organizer and activist, Ramona Martinez is convinced the moment is finally at hand.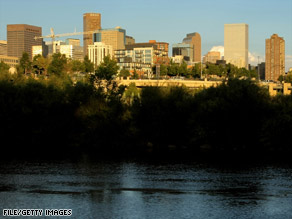 Latinos could be a key swing vote in Denver and across Colorado.
"The sleeping giant has finally woken up," says the longtime Colorado and national Democratic activist and former Denver city councilwoman. "They keep saying, 'It is the year of the Latinos.' Well, I think it is this time."
If so, the fastest-growing segment of the American population could have a decisive impact on a remarkably close presidential election, emerging as the potential swing vote in several critical electoral battlegrounds.
Colorado is just one example, and offers a fascinating "ground zero" glimpse in the battle for the Latino vote.
Twenty years ago, in the 1988 presidential elections, Hispanics accounted for 3.7 million votes. In 2004, it was more than twice that -- 7.5 million votes. And that number is certain to grow this cycle.
Here in Colorado, both parties believe the Latino percentage of the statewide vote will eclipse 10 percent for the first time. (It was 8 percent in 2004.)
Nationally, Barack Obama leads John McCain 65-30 percent among Latinos in the latest CNN/Opinion Research Corp. polling, and Democrats believe if those numbers hold, then the Latino vote could prove pivotal here in Colorado, as well as in New Mexico, Nevada, Florida and perhaps even North Carolina, which ranks 11th nationally in its percentage of Latino residents.

View the CNN electoral college map »
The Obama campaign is making an unprecedented outreach to register new voters in the Latino community, as well as to keep in touch with supporters through Election Day because Hispanic turnout has often been significantly less than the hopes of community organizers.
Martinez says the Obama effort here in Colorado is expanding as the election draws closer and polls show this state is a tossup.
Don't Miss
"They just hired another 20 or 30 organizers to do voter registration in key areas," she said in an interview at her home. "They just had training. They are paying for the training of those organizers. They are hiring more organizers than I have seen in my lifetime in this state for the Latino vote."
New citizen Fernando Torres is among the many reasons for Democratic optimism. He will cast his first vote this year, and says Obama will get it because he believes he is more in touch with the struggles of working-class voters.
"The economy is very tough," said Torres, who runs a marble and granite company in Denver. "I don't make any money," he said of conditions at the moment, saying business has slowed to the point that he's just barely able to pay his bills.
Of McCain, Torres says: "I think he came from rich people."
Ana Calderon is an insurance saleswoman whose office window has a sign urging Latinos to register and vote. She is a registered Democrat who says she is most likely an Obama voter, but not 100 percent certain just yet.
"He is very smart, very intelligent, you know, raised by a single mom -- I am a single parent myself," Calderon said between fielding business calls -- some in English and some in Spanish. "But yet he is still very inexperienced. I think this is his first year in the Senate if I am not mistaken. And then there is McCain, who has been with the government for years, a veteran, a real smart man who would do a good job."
Walk into a McCain campaign office in Denver, and it is not unusual to hear Spanish-language conversations about "la presidencia."
The bulk of the Latino outreach on the Republican side, however, is to the south of Denver in more conservative Pueblo County, where the GOP effort has the assistance of a recent convert with a famous name in Colorado politics.
Working the phone bank in Pueblo is Silver Salazar, a Democratic precinct captain in the area for more than two decades and a former Hillary Clinton supporter who says he could not support Obama because he believes he is too liberal and too inexperienced.
"Sen. Obama is totally out of touch with the Hispanics," Salazar says. "On immigration reform, abortion, the war in Iraq. So that made my decision a lot easier ..."
But his decision to support McCain is a source of some family friction. He has two cousins in the Colorado congressional delegation -- Sen. Ken Salazar and Rep. John Salazar are both Democrats, and both big Obama supporters.
Silver Salazar says it is a friendly competition, and predicts he will be on the winning side in Colorado despite the giant Obama banner hanging from the roof of Sen. Salazar's Pueblo office.
"We will have Thanksgiving dinner together next year -- maybe not this one," he said with a smile.
E-mail to a friend

All About Barack Obama • John McCain • Colorado