ANCHORAGE, Alaska (CNN) -- The legislative investigation into Alaska Gov. Sarah Palin's firing of her public safety commissioner needs to go ahead despite the increasingly heated opposition of the McCain-Palin campaign, a leading Republican said Tuesday.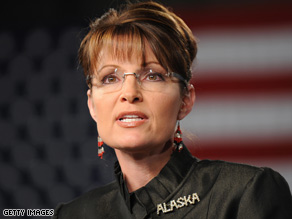 Alaska Gov. Sarah Palin is being investigated for the possibly improper firing of a state official.
Since becoming the Republican vice presidential candidate in August, Palin has halted her previously promised cooperation with the Legislature's investigation of the July dismissal of Public Safety Commissioner Walt Monegan.
Campaign aides have attacked the state senator managing the investigation, Hollis French, as a Democratic partisan running a "tainted" inquiry, and Palin's husband, Todd, and several top aides have refused to comply with subpoenas from French's committee.
But Rep. Jay Ramras, the Republican chairman of the Alaska House Judiciary Committee, said Tuesday that he still has confidence in the Legislature's investigation and said it should go forward.
"I think it's going to be benign in the conclusions that it reaches, anyway," he said. "But I think it's important to reach a conclusion."
Ramras called himself "a conservative, pro-life Republican" who is supporting GOP presidential nominee John McCain's ticket. But, he added, "We all took an oath of office, and this is an important report to come out."
The investigation was commissioned by a bipartisan committee of the Legislature in July, after Monegan's dismissal.
French, the chairman of the Alaska Senate Judiciary Committee, has been under fire since a September 2 interview with ABC News in which he said the inquiry could lead to an "October surprise" for the GOP ticket.
For more than a week, Republican campaign officials have held routine "truth squad" news conferences to criticize French and accuse Democratic presidential nominee Barack Obama's campaign of attempting to manipulate the investigation.
But Ramras, whose committee concurred with the September 12 decision to issue subpoenas to Todd Palin and 12 others, discounted the criticism.
"The hyperbole from the truth squad is a little farfetched," he said. "To those of us who have monitored this thing from the front-row seats, it's a misnomer."
Palin insists that the Personnel Board, whose members are appointed by the governor's office, is the only legitimate forum for inquiry. The governor's lawyer met with the special counsel hired by the three-member board Monday to discuss documents and interviews, and Palin will cooperate with that inquiry, campaign spokeswoman Meg Stapleton said Monday.
Monegan says he was sacked after he refused to fire the governor's former brother-in-law, a state trooper who was involved in an acrimonious divorce from Palin's sister. Palin has denied any wrongdoing, telling Fox News last week that Monegan was "insubordinate" in disputes over budget issues.
The Legislature's inquiry is scheduled to be completed October 10, and Ramras said there was "zero chance" it would be shut down. Though two lawsuits have been filed to halt the investigation, he said the investigator hired by lawmakers has enough documents and interviews to write a "materially complete" report.
"There's no question the report is going to be produced," he said. "There is a question of which folks will participate in it and which ones won't."
E-mail to a friend

All About Sarah Palin • Alaska • Todd Palin • John McCain