From Ed Hornick
CNN

(CNN) -- Shortly after Sen. John McCain announced on Wednesday the suspension of his campaign to tackle the economic recovery plan in Congress, his opponent questioned the timing of his decision.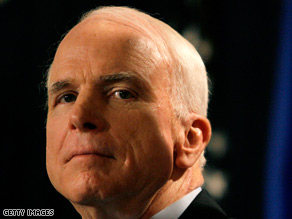 Sen. John McCain said Wednesday that he will not attend Friday's presidential debate.
Sen. Barack Obama said he called McCain about 8:30 a.m. Wednesday, "after determining that many of the principles that I had set forth were ones that Sen. McCain adopted as well in terms of how this financial proposal should be structured."
Democratic presidential nominee Obama said Sen. Tom Coburn, R-Oklahoma, came up with the idea of issuing a joint statement agreeing on some "broad principles" that he and McCain shared on resolving differences in the rescue plan.
McCain campaign spokesman Brian Rogers said the Republican senator did not take Obama's call but rather called him back later in the day.
Obama said, "[McCain] called me back at about 2:30 this afternoon after our rally, and I asked him to join me in issuing a joint statement to let this Congress and this administration know where we stand and what we expect from this proposal, because of the past few days, it's been clear that we have come to agree on some broad principles."
Don't Miss
Obama added that McCain agreed to the suggestion of issuing a joint statement.
McCain, according Rogers, suggested that the two presidential candidates have a meeting in Washington "to lead a bipartisan effort to solve this problem" and that they both suspend their campaigns and hold off on Friday's presidential debate.

Watch McCain's announcement »
Obama said his intent was focused on issuing a joint statement first.
But shortly after the call ended, Obama said, his rival appeared on television announcing the suspension and the subsequent debate no-show.
"I think the only possible miscommunication that might have been how quickly there was an announcement and someone was on television. I think my assumption was that the joint statement would go out initially," Obama said.

Watch Obama discuss McCain's announcement »
But McCain, appearing on "The CBS Evening News with Katie Couric" Wednesday night, challenged Obama's claims that he supported a joint statement.
"This is not the time for statements. ... I think the American people expect more of us. And I would hope that we would respond that way," he said.
"We discussed that we do agree, and I'd be glad to -- to join in a common press release or statement, but now is not the time for statements. Time is now to act," he added.
Asked about political motivation in the news conference, Obama said to check with the other guy.
One Democratic senator wasn't as diplomatic answering the question.
"This was seeking political one-upmanship, and it's going to fail," Sen. Chuck Schumer, D-New York, said Wednesday night.
South Carolina Republican Sen. Lindsey Graham defended his party's candidate:
"I am proud of my candidate, who wants to suspend the campaign, come back and work with congressional leaders to solve a problem that, if not solved, will lead to a financial meltdown in this country."
Obama added that the conversation was "cordial" and that the two agreed that this was a "very important issue we had to deal with."
E-mail to a friend

All About John McCain • Barack Obama