By Paul Begala
CNN Contributor
Editor's note: Paul Begala, a Democratic strategist and CNN political contributor, was a political consultant for Bill Clinton's presidential campaign in 1992 and was counselor to Clinton in the White House. Begala is not a paid political consultant for any politicians or candidates. His new book is "Third Term: Why George W. Bush Loves John McCain."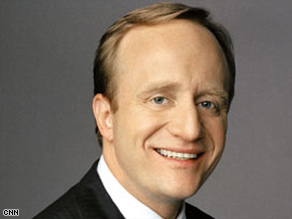 Paul Begala says candidates should wait until after the election to put partisan differences aside.
(CNN) -- Despite John McCain's announcement that he is suspending his campaign, chances are there will be a debate Friday night at Ole Miss. And with all the challenges and changes facing the American people, a good partisan debate may be the thing we need most.
The dirty little secret is that debates are not as difficult as some may think. The issues to be discussed are usually pretty predictable: good moderators (and Friday night's debate will be moderated by a very good one, the estimable Jim Lehrer of PBS) don't play gotcha.
Both candidates are intelligent and articulate. They can work on an economic bailout plan in Washington, then fly to Mississippi for the debate. But they'd better come ready to disagree. iReport.com: Do you think the debate should continue?
The job for each candidate in the debate will be to focus on the issues where he can draw strong, clear distinctions between his ideas and values and his opponent's.
So both Barack Obama and McCain need to drop this kumbaya stuff about the bailout bill and talk about where they disagree. "Now is a time to come together Democrats and Republicans in a spirit of cooperation for the sake of the American people," the two candidates said in a joint statement Wednesday.
Don't Miss
That sounds nice, but it's wrong. This actually is the time for partisanship. The purpose of a campaign is to test two different partisan philosophies against each other.
McCain has a long record of opposing government regulation of business. Obama sees a stronger role for government to set rules of the road. Instead of blurring those distinctions, a healthy, honorable debate should sharpen them. If we can't debate our partisan -- and honestly held -- differences in the final six weeks of a campaign, when can we?
The Book of Ecclesiastes teaches us there is, "A time to throw stones, and a time to gather stones; a time to embrace, and a time to shun embracing. ... A time to tear apart, and a time to sew together; a time to be silent, and a time to speak." A presidential debate is the time to throw stones, it is the time to shun embracing, a time to tear apart, if you will. In other words, the two candidates have an obligation to talk about their differences.
Then, after the election, it will be time to put partisan differences aside and work across the partisan divide. But during a campaign, that partisan divide is essential. Al Gore and John Kerry would have been very different presidents than George W. Bush. And John McCain would be a very different president than Barack Obama.
They're both good men; both patriots. But they have fundamentally different views about the future of our nation. Debating those differences is a beautiful form of patriotism.
I can't wait to see them have at it. And, gentlemen, spare me the platitudes about bipartisanship. This country needs a thorough and thoughtful airing of the two very different governing philosophies the two parties and their candidates embody.
The opinions expressed in this commentary are solely those of the writer.
E-mail to a friend

All About John McCain • Barack Obama • George W. Bush