(CNN) -- Mississippi Gov. Haley Barbour said he expects both presidential candidates to be at Friday night's debate, even though Sen. John McCain has said he'll only go if Congress reaches a deal on the bailout.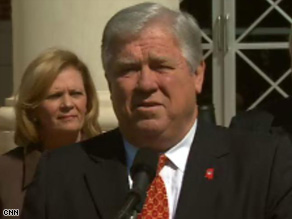 Gov. Haley Barbour says he's still planning on having a debate Friday night.
"I expect there to be a debate tomorrow night, and I look forward to it," Barbour told reporters at the debate site on the University of Mississippi campus in Oxford.
Barbour said he had not been in direct contact with either of the candidates and he did not have any "inside information."
Debate planners got a big surprise Wednesday when McCain called for postponing the first presidential debate. The University of Mississippi has invested millions in preparing for it.
The Republican presidential candidate said he was suspending his campaign to focus on the $700 billion bailout proposal. His campaign said he would attend the debate if Congress passes legislation by Friday morning.
McCain said Thursday that Washington needs "all hands on deck" to work on the government's proposed bailout plan.

Watch more on the fate of the debate »
"I cannot carry on a campaign as though this dangerous situation had not occurred, or as though a solution were at hand, which it clearly is not," McCain said in New York. "With so much on the line, for America and the world, the debate that matters most right now is taking place in the United States Capitol. I intend to join it."
Sen. Barack Obama's campaign has said the debate should go on.
Don't Miss
"I think we can do both of these things at the same time. The next president is going to face multiple crises on the same day," Robert Gibbs, Obama's top adviser, said on CNN's "American Morning."
"We've got a presidential debate scheduled. We've got a stage. We'll have an audience. My guess is we'll have a moderator and at least one of the presidential candidates," Gibbs said.

Watch what Gibbs says about the debate »
University Chancellor Robert Khayat, appearing with Barbour on Thursday, said university officials have been in contact with both campaigns but only in regard to "what we have to do to be prepared for tomorrow night."
Richard Howorth, the mayor of Oxford, said debate preparations are under way and organizers are staying positive.
"We think it's going to happen. We're not thinking about the alternative right now, so we're still excited about it and have a really positive attitude," said Howorth, who is a supporter of Obama.
Howorth said while they think the debate will go on, he acknowledged that they are in a "wait-and-see mode."
Hours after McCain called for rescheduling the debate, the Commission on Presidential Debates said it was moving forward with its original plan:
"The Commission on Presidential Debates (CPD) is moving forward with its plan for the first presidential debate at the University of Mississippi in Oxford, Miss., this Friday, Sept. 26," the group said in a statement.
"The plans for this forum have been under way for more than a year and a half. The CPD's mission is to provide a forum in which the American public has an opportunity to hear the leading candidates for the president of the United States debate the critical issues facing the nation. We believe the public will be well served by having all of the debates go forward as scheduled."
E-mail to a friend

All About Mississippi • Haley Barbour