From Terry Frieden
CNN

WASHINGTON (CNN) -- A special prosecutor will conduct an independent investigation into the conduct of Justice Department officials involved in the firings of nine U.S. attorneys, Attorney General Michael Mukasey announced Monday.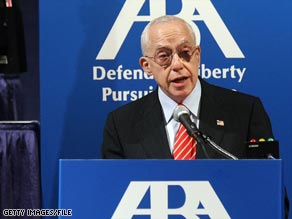 Attorney General Michael Mukasey announced the appointment of a special prosecutor Monday.
Connecticut federal prosecutor Nora Dannehy will have the power to empanel a grand jury if she chooses.
The announcement came within minutes of the release of a report by the Justice Department inspector general that found that the 2006 firings were "fundamentally flawed" and a special prosecutor should be appointed to examine potential criminality in the controversial removals.
The report calls the firings "unprecedented" and is harshly critical of former Attorney General Alberto Gonzales for not paying attention to the actions of his chief of staff, Kyle Sampson, whom the report identifies as the driving force in the firings.
A prosecutor should examine "whether Sampson or other Department officials made false statements to Congress or to us" about the firing of U.S. Attorney David Iglesias of New Mexico, the report says.
Also to be examined is whether obstruction of justice or wire fraud was involved in the Iglesias firing, the report says, and whether there was an effort by Sen. Pete Domenici or Rep. Heather Wilson, both New Mexico Republicans, to press Iglesias to bring an indictment before an election.
"I'm supportive of the appointment of a special prosecutor. I've maintained all along laws were broken," David Iglesias said in a telephone interview.
Don't Miss
An attorney for Domenici blasted the report, saying it is "replete with innuendoes that pass as findings".
"There is no credible basis to suggest that Senator Domenici called Mr. Iglesias in order to interfere with or obstruct any ongoing investigation. Indeed, the Senate Ethics Committee's exhaustive review of the evidence concluded as much," said attorney K. Lee Blalack.
The report further calls for interviews of witnesses who refused to cooperate with the inspector general's investigators -- including former White House officials Karl Rove and Harriet Miers and former Justice Department official Monica Goodling.
The report, which focused heavily on the Iglesias firing, says U.S. attorneys can be removed for any reason or for no reason, but not for an improper reason.
The process implemented by Sampson, the report says, "was unsystematic and arbitrary, with little oversight" by Gonzales.
Sampson's attorney issued a brief statement questioning the report's references to the former chief of staff.
"It is mystifying and disappointing that the inspector general chose to impugn Mr. Sampson's candor and integrity," said attorney Brad Berenson. He stressed Sampson was one of the few officials who cooperated fully with the investigators.
The 400-page report was particularly hard on Sampson's boss, the former attorney general.
"We believe the primary responsibility for these serious failures rest with senior Department leaders -- Attorney General Alberto Gonzales and Deputy Attorney General Paul McNulty -- who abdicated their responsibility to adequately oversee the process and to ensure that the reasons for removal of each U.S. Attorney were supportable and not improper," the report says.
Gonzales doesn't see it that way, his lawyer said.
"The report makes clear that Judge Gonzales engaged in no wrongful or improper conduct while recognizing, as he has acknowledged many times, that the process for evaluating U.S. attorney performance in this instance was flawed," said attorney George Terwilliger. The attorney complained that "it seems rather odd" that the investigation was being escalated to a criminal probe with a special prosecutor. At the same time, he quoted Gonzales as saying, "My family and I are glad to have the investigation of my conduct in this matter behind us".
On Capitol Hill, Democrats used the new report to repeat stinging criticism of the Gonzales Justice Department, but they were generally supportive of the new attorney general's call for a special prosecutor.
"It is about time that the baton gets passed to a prosecutor with the power to compel answers so that we can finally get at the truth instead of just circling around it," said Sen. Charles Schumer, D-New York, who had forced the investigation of the U.S. attorney firings.
Sen. Patrick Leahy, D-Vermont, who chaired hearings on the firings, called the new findings "another disturbing report card on the conduct of the Gonzales Justice Department," but agreed that "perhaps a prosecutor can break down walls others cannot."
Dannehy's investigation is likely to take at least several months. For now, she will report directly to Mukasey and Deputy Attorney General Mark Filip, who are expected to be replaced by a new administration in January.
E-mail to a friend

All About Alberto Gonzales • Michael Mukasey