From Mark Preston
CNN Political Editor

NASHVILLE, Tennessee (CNN) -- Pundits may have spent the year declaring the passing of the 527 era, but the view from primary states this month is beginning to make the reports of that death look just a bit premature.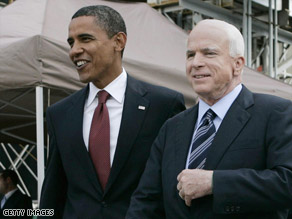 Barack Obama and John McCain were highly critical of independent groups during the primaries.
Insomniacs and second-shift workers tuning into Pittsburgh's WTAE early Saturday saw a two-minute commercial claiming that Sen. Barack Obama "arrogantly mocked" the Bible in a 2006 speech on religion.
In a recent ad for the California Nurses Association that aired in battleground states, an image of 72-year-old Sen. John McCain flashed on the screen as a woman sang "One Heartbeat Away," a not-so-subtle dig at the Republican presidential nominee's age. The goal was to put doubt into voters' minds about Alaska Gov. Sarah Palin's ability to step in as commander in chief if something were to happen to her running mate, McCain.
Veterans for Freedom has begun a multimillion-dollar ad campaign against Obama that accuses the Democratic presidential nominee of caring more about his campaign than about troops in Iraq and Afghanistan.
And BornAliveTruth.org, an anti-abortion group, is taking aim at Obama with a television ad featuring a 31-year-old woman whose mother underwent an unsuccessful late-term abortion procedure: If "Obama had his way, I wouldn't be here," Gianna Jessen said in the new spot.
For the most part, these independent groups, many of which are called 527s for their designation in the IRS tax code, had been relatively minor players during the 2008 presidential election season as ambitious attempts to organize major donors mostly foundered because of a lack of interest.
At this time four years ago, independent groups spent $120 million on commercials for the presidential race, compared with $13.2 million invested in this race, according to an analysis of political television ad spending conducted for CNN by TNSMI-Campaign Media Analysis Group.
Don't Miss
This election cycle, spending by anti-Obama and anti-McCain groups is even, with each totaling $6.6 million. In the past two weeks, Republican issue groups have spent $2.3 million, while Democratic issue groups have accounted for about $1 million.
But there has been a recent uptick in the frequency of third-party-funded ads, said Evan Tracey, CNN's consultant on television advertising.
MoveOn.org and the Service Employees International Union, which support Obama, announced major ad campaigns last month. So did the anti-Obama conservative American Issues Project. And the pace is picking up: Six groups have unveiled ads since Friday.
"What we have seen over the past five days is indicative of what we are going to see a lot of in the next four weeks," said Tracey, chief operating officer of Campaign Media Analysis Group.
The strategy for many of these independent organizations is to make an impression with deep-pocketed donors who can help fund the ad and take it to a new level.
In fact, PHForAmerica asks viewers to "help air this ad on TV as often as possible" by making a donation to the organization.
"Even though an ad buy might be small now, remember, these groups are auditioning right now for late donations to take these ads to a larger scope," Tracey said. "Remember, the Swift Boat original ad buy was less than $1 million and ran in only a handful of small media markets."
PHForAmerica's ad first appeared as a Web video on YouTube and drew a sharp response from the Obama campaign, which said it was "full of outright lies" and predicted that the ad would never see air. Even though the ad had low production quality, it ran at 1:24 a.m. ET -- and the head of the group said it will continue to do so, if only for now in the wee hours of the morning.
In the wild, wild west of political ads, accuracy is not always important, and with 28 days remaining before Election Day, expect more independent groups like PHForAmerica to take to the airwaves. The mission: act as a disrupter, try to knock an opponent off-stride and in many cases call into question a candidate's character, his patriotism -- even his health and mental status.
In one 30-second ad from Brave New PAC and Democracy for America released in mid-September, McCain's fellow prisoner of war Philip Butler described the Republican nominee as "unfit to lead," making the spot one of the first to mention McCain's POW stint in a negative context.
Last week, the conservative group Judicial Confirmation Network launched a TV ad that featured Obama's ties to the Rev. Jeremiah Wright, the controversial pastor who nearly derailed the Illinois senator's presidential bid in the spring, and tied Obama to Weather Underground co-founder William Ayers and controversial developer Tony Rezko. Such tough attacks have become central elements of the McCain-Palin message in recent days.
None of these groups is allowed to communicate or coordinate with the campaigns in any way because of federal campaign finance regulations.
Both Obama and McCain were highly critical of independent expenditure groups during their respective primary contests, but the candidates have refrained from condemning the wave of new ads.
And as the 2008 campaign heads into the homestretch and the focus shifts to turning out the base, these independent groups will probably pour millions more into last-minute ad buys.
"These are going to have highly inflammatory rhetoric that is going to be steered at base voters in swing states," Tracey said. "They want to fire up the single-issue voters."
E-mail to a friend

All About Television Advertising • Evan Tracey • John McCain • Barack Obama