From Ed Hornick
CNN

(CNN) -- Alaska Gov. Sarah Palin was on the campaign trail Tuesday, making the case to voters in the swing state of Florida that Sen. John McCain is the only one in the presidential race who will "solve our economic crisis and not exploit it."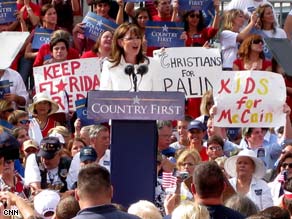 Alaska Gov. Sarah Palin held a campaign rally Tuesday morning in Jacksonville, Florida.
At a rally in Jacksonville on Tuesday morning, McCain's running mate said he has "seen the corrupt ways of Washington and the wasteful spending and other abuses of power, and as president, I promise you, I'm going to help him do this. We're going to end those abuses."
"This is a moment when principles and political independence mean so much more than just a party line," she said. "He and I don't just talk about change; we're the only candidates in this race with a track record for actually making change happen."
Both McCain, the Republican presidential nominee, and his Democratic rival, Sen. Barack Obama, are off the campaign trail Tuesday as they prepare for the second presidential debate in Nashville, Tennessee.
The town hall-style debate begins at 9 p.m. ET.
Palin's Democratic counterpart, Sen. Joe Biden, is also off the campaign trail as he deals with the death of his mother-in-law.
The Alaska governor offered a preview of the debate: "So tonight, the nation gets another look at the contrast. Tonight, it's town hall time, live, from Nashville. ... We'll see the difference between a politician who puts his faith in government and a leader who puts his faith in you."
Later at an event in Pensacola, Palin said that although Obama's camp talks about change, the campaign members "sure do a lot of talking about the past and pointing fingers backwards. ... We're looking to the future, because that's where you find solutions."
She also touched on McCain's promise to "impose a spending freeze ... to cover all but the most vital functions" in order to cut wasteful spending.
"We have to do this. You know, we're in a hole. What do you do when you're in a hole? You don't want to be there. You stop digging," she said. "We'll also make health care more accessible and affordable."
Palin's stops mark her second trip to Florida, a state that has been make-or-break for presidential candidates. Polls show the state, which has gone Republican in the past two presidential elections, leaning Obama's way.

Watch Palin lash out at Obama's campaign »
A recent CNN/Time/Opinion Research Corporation poll of likely voters in Florida found Obama leading McCain, 51 percent to 47 percent.
The poll of 770 voters was taken September 28-30 and has a margin of error of plus or minus 3.5 percentage points.
Palin also continued her attacks on Obama's ties to William Ayers, a former member of the radical 1960s and '70s group Weather Underground.

Watch more of her comments »
She recently accused the Illinois senator of "palling around with terrorists who would target their own country."
Shortly after, Obama's campaign released an ad quoting editorials that called McCain "erratic" and "out of touch."
On Monday, the Obama campaign released an online documentary criticizing McCain over his involvement in the Keating Five scandal of the 1980s.
Palin told the crowd Tuesday that she sees "a pattern in how our opponent has talked about one of his most troubling associations."

Watch as Palin campaigns through Florida »
CNN producer Carey Bodenheimer reported Tuesday that at several recent rallies, Palin has stirred up crowds by mentioning the "liberal media." Routinely, there are boos at every mention of The New York Times and the "mainstream media," both of which are staples of Palin's stump speech.
Bodenheimer said some audience members are openly hostile to members of the traveling press covering Palin; one crowd member hurled a racial epithet at an African-American member of the press in Clearwater, Florida, on Monday.
Washington Post columnist and CNN contributor Dana Milbank also commented on the incident.
"It's indicative of the very sort of sinister turn things have taken on the trail ... that people are that angry, that they'd be turning venom on somebody who just happens to be there recording the event."
Milbank also discussed an incident in Estero, Florida, on Monday in which Palin confronted a heckler.
"You know, bless your heart, sir. My son's over in Iraq fighting for your right to protest," she responded to loud cheers.
Palin travels to North Carolina on Tuesday night, two days after she stumped in Nebraska, two reliably red states that haven't voted for a Democratic presidential candidate in at least three decades.
Her most recent travel schedule is the latest indication that Obama and the nation's ailing economy have put McCain on the defensive, even in states where the prospect of a Democratic win was unthinkable only four years ago.
The visit to North Carolina comes as most recent polls of the state show Obama and McCain running a close race there. A CNN/Time Magazine/Opinion Research Corporation poll of North Carolina last month showed the candidates dead even, but some recent polls have even suggested a slight Democratic lead. Election Center: Check out the latest state polls
Then there's the unknown variable of an anticipated rise in turnout in the African-American community. In 2006, that voting bloc made up 26 percent of North Carolina's electorate, with 85 percent voting for Sen. John Kerry. Obama is expected to win an even higher percentage of the black vote this cycle, with a higher expected turnout as well.
"The North Carolina of today is far more diverse than the North Carolina of 20 or even 10 years ago," CNN Senior Political Researcher Alan Silverleib said.
Palin's appearance in the state comes more than five months after McCain held his last public event there, delivering a speech in early May at Wake Forest University on his vision for judicial appointments.
E-mail to a friend

CNN's Alexander Mooney contributed to this story.
All About Sarah Palin • John McCain • Barack Obama