WASHINGTON (CNN) -- Georgia Rep. John Lewis said Saturday that controversial remarks he made comparing the feeling at recent Republican rallies to those of segregationist George Wallace were misinterpreted.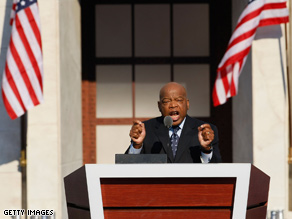 Rep. John Lewis, D-Georgia, and Sen. John McCain traded tough statements Saturday.
The civil rights icon issued a statement Saturday evening which said a "careful review" of his remarks made earlier in the day "would reveal that I did not compare Sen. John McCain or Gov. Sarah Palin to George Wallace."
McCain said Lewis' earlier statement was "a brazen and baseless attack" and called on Sen. Barack Obama to repudiate it.
Lewis had said earlier that he was "deeply disturbed by the negative tone of the McCain-Palin campaign" and that the Republican running mates are "playing with fire."
"What I am seeing reminds me too much of another destructive period in American history. Sen. McCain and Gov. Palin are sowing the seeds of hatred and division, and there is no need for this hostility in our political discourse," Lewis said in a statement.
"During another period, in the not too distant past, there was a governor of the state of Alabama named George Wallace who also became a presidential candidate. George Wallace never threw a bomb. He never fired a gun, but he created the climate and the conditions that encouraged vicious attacks against innocent Americans who were simply trying to exercise their constitutional rights. Because of this atmosphere of hate, four little girls were killed on Sunday morning when a church was bombed in Birmingham, Alabama," wrote the Democrat.
McCain has written about Lewis in the past, praising his actions in Selma, Alabama, during the civil rights movement. The Republican nominee even said during a summer faith forum that Lewis was one of three men he would turn to for counsel as president.
McCain said Saturday that Lewis' statement was "shocking and beyond the pale."
"The notion that legitimate criticism of Sen. Obama's record and positions could be compared to Gov. George Wallace, his segregationist policies and the violence he provoked is unacceptable and has no place in this campaign.
"I am saddened that John Lewis, a man I've always admired, would make such a brazen and baseless attack on my character and the character of the thousands of hard-working Americans who come to our events to cheer for the kind of reform that will put America on the right track."
Clarifying his remarks later Saturday, Lewis said his statement "was a reminder to all Americans that toxic language can lead to destructive behavior."

Watch more on the rising rage at McCain-Palin rallies »
"I am glad that Sen. McCain has taken some steps to correct divisive speech at his rallies. I believe we need to return to civil discourse in this election about the pressing economic issues that are affecting our nation."
Obama's campaign said Obama "does not believe that John McCain or any policy criticism is any way comparable to George Wallace or his segregationist policies" but said Lewis was "right to condemn some of the hateful rhetoric."
Lewis' comments followed several days of headline-grabbing anger aimed at Obama from some attendees at campaign rallies for McCain and Palin.
In the past few days, angry supporters have called on McCain toughen up on Obama.
Late last week, McCain urged his supporters to be respectful of Obama.
"We want to fight and I will fight. But we will be respectful," he said. "I admire Sen. Obama and his accomplishments. I will respect him and I want everyone to be respectful, and let's make sure we are."
E-mail to a friend

CNN's Rebecca Sinderbrand contributed to this report.
All About John Lewis • George Wallace • Sarah Palin