By Stuart Rothenberg and Nathan L. Gonzales
The Rothenberg Political Report
Stuart Rothenberg, who has served as a political analyst for CNN and CBS News, is editor and publisher of The Rothenberg Political Report, a nonpartisan political newsletter. Nathan Gonzales is the publication's political editor.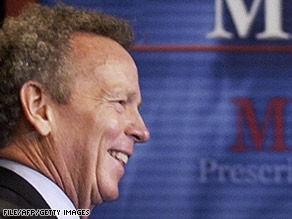 Rep. Randy Kuhl, R-New York, is in a tough re-election fight this year.
WASHINGTON (CNN) -- A dozen rematches are a good place to look between now and Election Day to see what kind of year the two parties are having in the fight for the U.S. House of Representatives.
There is no question about whether Democrats will retain control. But it is unclear exactly how many seats they will add to their majority.
Democrats have four top-tier candidates worth watching who are running in rematches against Republican incumbents in November, and Republicans have four former members of Congress and one noteworthy challenger running in rematches this year. In addition, three longer-shot Democratic challengers are in interesting rematches.
The four Democrats in toss-up races against incumbent Republicans are Darcy Burner in Washington's 8th District against Dave Reichert, Eric Massa in New York 29 against Randy Kuhl, Larry Kissell in North Carolina 8 against Robin Hayes, and Dan Seals in Illinois 10 against Mark Kirk.

View the House seats most likely to switch parties »
All four Democrats came close two years ago, and at least three of the four are likely to win if Democrats are going to have the very good night that many observers now predict.
The Illinois race is particularly noteworthy because Kirk, a moderate from the Chicago suburbs, is widely regarded as among the brightest and most able of House Republicans. But his district is politically competitive, and Democratic presidential nominee Barack Obama is expected to win it easily. Like Obama, Kirk's opponent, Seals, is a personable African-American.
Three of the four former GOP House members running two years after they were ousted -- Anne Northup (Kentucky 8), Melissa Hart (Pennsylvania 4) and Mike Sodrel (Indiana 9) -- look as if they are distinct underdogs.
Don't Miss
Of the three, Sodrel is running in the most Republican district. But this year's rematch against Democrat Baron Hill is the fourth consecutive time the two men will be facing off, making it more difficult for Sodrel to run as an agent of change.
In Wisconsin's 8th District, Republican John Gard is trying to defeat Steve Kagen, the Democrat who beat him two years ago in an open-seat race. The district certainly leans Republican, but the national mood once again favors Democrats.
Finally, three Democratic long-shot rematches should tell us exactly how big the Democratic wave will be. Challengers Victoria Wulsin in Ohio 2 (against Rep. Jean Schmidt), Jim Esch in Nebraska 1 (against Rep. Lee Terry) and Bill Durston in California 3 (against Rep. Dan Lungren) are all running in reliably Republican districts. If those three challengers win, it will be a memorable year for Democrats nationally.
To have a great year, Democrats will need to do well in rematches, score victories in districts where the party's unsuccessful '06 candidates are running again in open seats, defeat a handful of GOP incumbents who went unchallenged in 2006 and minimize their own losses. So rematches are just part of the equation.
E-mail to a friend

All About U.S. House of Representatives