By Scott J. Anderson
CNN
WASHINGTON (CNN) -- Colin Powell's endorsement of Sen. Barack Obama was as much a rejection of the Republican Party and Sen. John McCain's campaign as an embrace of the Democratic presidential nominee, political analysts said Monday.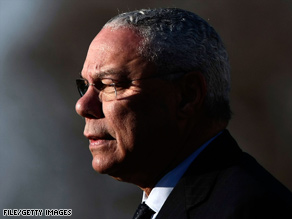 Colin Powell may have given voice to moderates unhappy with the GOP ticket, an analyst says.
Syndicated columnist David Sirota said Monday that the Powell endorsement was a troubling sign for McCain as his campaign enters its final weeks.
"The repudiation of John McCain by such a high-profile Republican certainly hurts John McCain," he said.
David Gergen, a CNN senior political analyst who has advised the last four presidents, said the Powell endorsement may give voice to "disillusioned" moderate Republicans disappointed by the negativity of the McCain campaign.
"They've been muttering about [it], but they were afraid to give voice to, and he came out and said it, in a way," Gergen said.
Powell's endorsement may also sway some voters who were hesitant to vote for Obama because they felt he was not ready to be the nation's commander in chief, said Bill Schneider, a CNN senior political analyst.

Watch panel debate impact of Powell's endorsement »
"It was extremely reassuring for this experienced military leader, a general, someone who is chairman of the Joint Chiefs of Staff, who was secretary of state, to endorse Barack Obama and say, 'His world experience, his commitment and knowledge of national security are fine. You can vote for him without those kinds of reservations,' " Schneider said.
Don't Miss
And CNN contributor Alex Castellanos, a Republican strategist, said "Colin Powell ... is a warm glass of milk and a cookie for those voters who have a hard time going to sleep at night."
On Monday, Obama said Powell would advise him if he becomes president.
"He's already served in that function, even before he endorsed me," Obama told NBC. "Whether he wants to take a formal role, whether there's something that's a good fit for him, I think is something that he and I would have to discuss."

Watch Obama say Powell will advise him »
Powell, a former secretary of state for President Bush as well as a former chairman of the joint chiefs of staff, said Sunday he decided, in part, to back Obama because he was troubled by the rightward direction the Republican party had taken in recent years.
Powell told NBC's Tom Brokaw that he was troubled by the McCain campaign's attempts to associate Obama with former '60s radical William Ayers and some within the Republican Party -- but not McCain -- were making the assertion that Obama is "closet" Muslim.
"On the Republican side, over the last seven weeks, the approach of the Republican Party and Mr. McCain has become narrower and narrower," said Powell.

Watch Powell endorse Obama »
In contrast, Obama's "inclusive" approach that crosses "ethnic lines, racial lines, generational lines" is what the nation needs right now, he said.
Powell said he made his choice to back Obama after watching both presidential candidates' reactions to the financial crisis that has gripped credit markets in recent weeks.
iReport.com: What do you think about Powell's endorsement of Obama?
Calling the crisis a "final exam," Powell said he found McCain "a little unsure as how to deal with the economic problems that we were having, and almost every day, there was a different approach to the problem."
"That concerned me," Powell added.
After Powell's announcement, McCain told FOX News he considered Powell and himself "longtime friends" and that he respected him, but that the endorsement of his rival did not come as a surprise.
"I'm also very pleased to have the endorsement of four former secretaries of state: Secretaries [Henry] Kissinger, [James] Baker, [Lawrence] Eagleburger and [Alexander] Haig," he said. "And I'm proud to have the endorsement of well over 200 retired Army generals and admirals."
Tara Wall, the deputy editorial editor of the Washington Times, said that moderate and conservative Republicans have been skirmishing throughout this election year, and that the Powell endorsement had brought that fight into the open.
While it energized conservatives, McCain's choice of Alaska Gov. Sarah Palin as a running mate may have alienated moderate Republicans like Powell, Wall said.
Powell said he did not feel Palin was ready to be president and that factored into his decision to endorse Obama.
"[McCain] took the calculated risk of putting Palin on the ticket to pacify the conservatives, and it did re-energize the base. And for that reason, you're going to have some of those moderates within the party feel a little disenfranchised, and I think that was the case for Colin Powell," Wall said. "So it is significant. I think it does send a message to Republicans."
E-mail to a friend

All About Colin Powell • U.S. Presidential Election