By Stuart Rothenberg and Nathan L. Gonzales
The Rothenberg Political Report
Stuart Rothenberg, who has served as a political analyst for CNN and CBS News, is editor and publisher of The Rothenberg Political Report, a nonpartisan political newsletter. Nathan Gonzales is the publication's political editor.
WASHINGTON (CNN) -- Chris Shays of Connecticut, the last Republican in the House of Representatives from New England, is used to running against the partisan tide. But this year, the wave might be too high for the Republican congressman to overcome.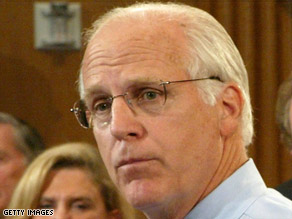 Recent polls show Republican Rep. Chris Shays tied with or trailing his Democratic opponent in Connecticut.
Shays is just one of many GOP candidates trying to win by outperforming Sen. John McCain's underwhelming performance in congressional districts nationwide.
McCain, R-Arizona, trailed Illinois Sen. Barack Obama by 21 points in Connecticut's 4th District, according to an October 13-14 SurveyUSA poll for Roll Call newspaper. A just-released University of Connecticut poll and a mid-September survey by the Democratic Feldman Group also had Obama winning by at least 20 points. By comparison, Democratic presidential candidate John Kerry won the district by just 6 points four years ago.
Recent public and private polling shows Shays either tied with or trailing his Democratic opponent Jim Himes. In 2004, Shays got 6 more points than President Bush, but the congressman will need a significantly larger number of Obama voters to cross over this year.

Watch how some GOP candidates are handling McCain's lag »
McCain's non-existent coattails run counter to the initial conventional wisdom that said his moderate style and crossover appeal would lift Republican candidates down ballot. That's just not the case two weeks out from Election Day.
In North Carolina, Republican Rep. Robin Hayes is a perennial target. President Bush won his 8th District by 9 points over Kerry in 2004, but McCain is trailing Obama in the district by 9 points, according to an end of September Greenberg Quinlan Rosner Research poll for the Democratic Congressional Campaign Committee. Hayes won with just 50.1 percent last cycle, and doesn't have much room for error.
McCain's struggles continue in other Republican-leaning districts like Pennsylvania's 3rd. According to an October 6-8 Research 2000 poll for the liberal Daily Kos Web site, Republican Rep. Phil English trailed his Democratic opponent by 7 points while McCain was losing the district by 2 points. President Bush won it by 7 points in 2004.
The news doesn't get better in more staunchly GOP areas.
President Bush won Ohio's 2nd District by 28 points four years ago, but an early October Research 2000 poll showed McCain's margin at just 11 points. Republican Rep. Jean Schmidt is in another competitive re-election race there.
Even in Wyoming, where Republicans are defending an open seat, McCain isn't reaching Bush's numbers. McCain was underperforming the President's 2004 totals by 10 points, according to an October 14-16 Research 2000 survey. In the House race, Gary Trauner, the Democrats' losing 2006 candidate, led former Republican state treasurer Cynthia Lummis, 44-43 percent.
Schmidt and Lummis are fortunate because McCain will carry their districts and they only need Republican voters to vote for them in order to get elected.
For Shays, Hayes, and English, the problem is more severe. A big wave for Obama might be too much of a burden for Republican congressional candidates to bear at a time when they are already saddled with an unpopular Republican president and an unpopular Republican brand.
E-mail to a friend

All About John McCain • Barack Obama • U.S. House of Representatives