(CNN) -- Alaska Gov. Sarah Palin and her husband will provide depositions Friday to the state Personnel Board, which is looking into whether Palin unfairly fired Alaska's public safety director this summer, the couple's attorney told CNN.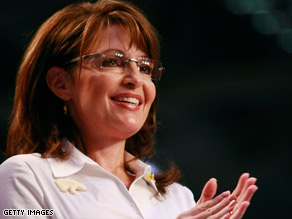 Gov. Sarah Palin says she has been "cleared of any legal wrongdoing."
Thomas Van Flein said he will be present for the depositions by the governor and her husband, Todd Palin. Each deposition will be done separately, with Palin, the Republican vice presidential candidate, giving hers in St. Louis, Missouri, a campaign adviser said.
Walt Monegan requested the fact-finding hearing before the state Personnel Board after he was fired as public safety director in July. He claims his reputation has been "unjustifiably tarnished" by a false accusation of misconduct.
Monegan, a gubernatorial appointee, says Palin fired him after he resisted pressure to dismiss State Trooper Mike Wooten, who had gone through an acrimonious divorce and custody battle with Palin's sister.
The governor had asked the Personnel Board to conduct an investigation -- a move she launched after becoming Sen. John McCain's running mate, declaring the agency the proper legal venue for the probe.
Don't Miss
An investigation commissioned by Alaska's bipartisan Legislative Council found earlier this month that Palin had the right to dismiss Monegan because she appointed him to the post, but that she unlawfully abused her authority by pressing for Wooten's firing although he already had been disciplined by the State Patrol for various actions.
"There was nothing unlawful or unethical about replacing a Cabinet member," Palin told reporters after Anchorage prosecutor Stephen Branchflower released his findings.
The transcripts of Friday's depositions are not likely to be released immediately unless approved by Personnel Board investigator Timothy Petumenos, who will take the testimony.
E-mail to a friend

All About Sarah Palin • Todd Palin • Walter Monegan