From Ted Barrett
CNN
WASHINGTON (CNN) -- If U.S. Sen. Ted Stevens of Alaska is found guilty of falsifying Senate financial disclosure forms over seven years but wins re-election, he could still serve in the Senate until that body votes to expel him.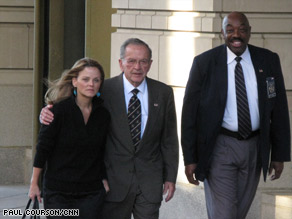 Sen. Ted Stevens leaves the federal courthouse earlier this week with his daughter Beth Stevens.
The 84-year-old Republican faces a tight race November 4 in his bid for re-election to a seventh full term.
His Democratic opponent is Anchorage Mayor Mark Begich.
Stevens faces seven felony counts accusing him of failing to reveal to the Senate certain gifts of materials, labor and household goods related to the extensive renovation of his Girdwood, Alaska, home. The prosecution valued the gifts he received at more than $250,000.
Article 1, Section 5 of the U.S. Constitution provides, "Each House may determine the Rules of its proceedings, punish its members for disorderly behavior, and, with the concurrence of two-thirds, expel a member."
According to the U.S. Senate Web site, "since 1789, the Senate has expelled only fifteen of its entire membership. Of that number, fourteen were charged with support of the Confederacy during the Civil War. In several other cases, the Senate considered expulsion proceedings but either found the member not guilty or failed to act before the member left office. In those cases, corruption was the primary cause of complaint.
"In the entire course of the Senate's history, only four members have been convicted of crimes. They were: Joseph R. Burton (1905), John Hipple Mitchell (1905), Truman H. Newberry (1920) and Harrison Williams (1981)," the site says.
"Newberry's conviction was later overturned. Mitchell died. Burton, Newberry, and Williams resigned before the Senate could act on their expulsion."
A Democratic leadership aide said the Senate Ethics Committee almost certainly would investigate Stevens -- whether he is found guilty or innocent on the corruption charges against him.
After an investigation, the committee would recommend to the full Senate a punishment ranging from reprimand to expulsion.
That investigation likely would happen during the next Congress, which convenes in January. Stevens, therefore, could serve and vote during the November lame-duck session and be sworn in next year.
A Republican leadership aide said it's too early to know if the Senate would vote to expel him if he were to be found guilty.
But the aide noted Stevens already has been stripped of his ranking-member positions on committees.
E-mail to a friend

All About Ted Stevens • Alaska