(CNN) -- In many states across the country, voting has begun, and in some cases, so have the headaches.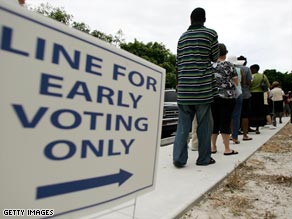 Long lines of early voters have been reported in several states across the country.
With the issues that marred the 2000 election singed into the electorate's collective memory, the reports of problems are troubling signs for many who are skeptical of whether their votes will count.
Forty-two percent of those surveyed in a recent CNN/Opinion Research Corp. poll said they were not confident that their votes could be "accurately cast and counted." That number is up 15 percentage points from a similar poll conducted four years ago.
The poll was conducted October 17 through October 19 and has a margin of error of plus or minus 3 percentage points.
As of Tuesday, 29 states were accepting early ballots, and election officials are reporting record turnouts. Voting problems, ranging from computer glitches to long lines, have been reported in a few states. Read about how the early voting numbers suggest a historic turnout may be in store
Florida has switched to its third ballot system in the past three election cycles, and glitches associated with the transition are causing headaches and long lines, election officials said. The state went back to using paper ballots this year after trying out touch screens.
"We're having problems with the poll machines," a voter in Jacksonville, Florida, told the CNN Voter Hotline. "They're not aligned correctly, so you're not sure about which candidate you're voting for, so they said they brought in 10 new machines as backup machines, but they've corrected the issue."
CNN Voter Hotline
If you have a problem voting or see a problem, call the CNN Voter Hotline at 877-GOCNN08 (1-877-462-6608); CNN will report on some of your calls and our partner, InfoVoter Technologies, can help get you in touch with your election board or find your voting location.

Part of the trouble stems from having to train election workers for the new system, said Buddy Johnson, the elections supervisor for Florida's Hillsborough County.

"When you've got brand new equipment and you're shifting from a touch screen, a digital system, to a more paper-oriented system, as we are this year, it's a familiarization process," he said.

Early voters are waiting for hours to cast their ballots as a result of the transition.

In Broward County, 17 of approximately 300 polling places are open for early voting, which ends November 2.
Don't Miss
"Total disaster," said a voter in Florida's Broward County. "You get up there, and you waited three hours, and then the line totally stops. It's very frustrating."
On Monday night, one Broward County polling site closed at 10:30 p.m., three hours past the scheduled time, reported CNN's Sean Callebs.

Watch Florida voters endure the long lines »
High turnout was causing long lines in other states, including North Carolina, Ohio and Nevada, states that are key to the electoral strategies of Barack Obama and John McCain's campaigns.
If early tallies are indicative of overall voter interest, it raises the question of whether states and counties are prepared for what might be a historic turnout on Election Day.
Voting machine troubles in West Virginia
In West Virginia's Jackson County, there were some reports that voting machines were accidentally recording the wrong vote.
"I went in there and pushed the Democrat ticket, and it jumped to the Republican ticket for president of the United States," said Calvin Thomas, an 81-year-old West Virginian. iReport: Tell us about your early voting experience
Thomas has voted in West Virginia in every election since Harry Truman defeated Thomas Dewey in 1948.
The same thing happened to his daughter, Micki Clendenin, when she cast her ballot. In both cases, poll workers at the site had them touch the screen a few more times, and the voting machine changed their ballot to their candidate choice.
"The lady came in, and she was -- very nicely, she just said, 'it's just been doing that.' She said, 'just hit it again.' So we hit it again, and this time it did go to Obama," Clendenin said.
CNN's Brian Todd reported that at least five voters in two West Virginia counties said they encountered the same problem. State and local officials said that they were isolated cases and that poll workers fixed the problems so the correct vote was cast.
The machines were manufactured by an Omaha, Nebraska-based company, Election System and Software. The machines will be used in several states this year and were among those that had problems in Ohio in 2004.
The company said that it has inspected the machines in West Virginia and that no one there has cast an inaccurate vote.
The West Virginia secretary of state's office said most of the problems occur because the machines are not calibrated properly. Jeff Waybright, the Jackson County clerk, disagreed and said the problems reported there were probably the result of voter error.

"There are no problems with the machines as recalibrated," West Virginia Secretary of State Betty Ireland said Wednesday, according to an Associated Press report. "Touch-screen voting in West Virginia is accurate and secure."

Ireland directed the state's county clerks to recalibrate their machines each morning during the early voting period and on Election Day.

In Georgia's Fulton County, several polling sites apparently lost their connections to the state's voter database, causing some long wait times for voters.
"We live in a country that can send a guy to the moon, but they can't get the computers up, so it's very discouraging for me," voter Quentin Cottrell told WGCL, an Atlanta-based news outlet. Read the full WGCL report
The Georgia secretary of state's office told CNN that the glitches were intermittent connectivity problems that did not involve voting machines. Election officials said the problems have been resolved.
Georgia Secretary of State Karen Handel said the long lines were the result of robust turnout, generated by a high level of interest in the election.
"I'll be candid: Voters should expect some wait time," she said. "Voters understand that this is a truly historic election."
E-mail to a friend

CNN's Sean Callebs, Brian Todd and Manav Tanneeru contributed to this report.
All About John McCain • Barack Obama • Elections and Voting