By Campbell Brown
CNN
Editor's note: Campbell Brown anchors CNN's "Campbell Brown: No Bias, No Bull" at 8 p.m. ET Mondays through Fridays. She delivered this commentary during the "Cutting through the Bull" segment of Monday night's broadcast.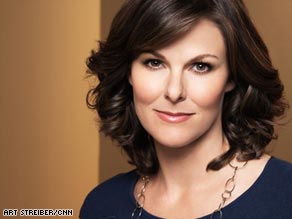 CNN's Campbell Brown says she understands why Sarah Palin "embraced her inner diva."
(CNN) -- It was big news when this story broke over the weekend -- a shocking quote from an adviser to John McCain, calling Sarah Palin a "diva."
You see, apparently the McCain campaign is frustrated with Palin. They say she is "going rogue" -- not following orders, speaking for herself without running it past their people first.
Her people say she is trying to "bust free" of the damaging and mismanaged rollout of her candidacy. So the McCain campaign, in its frustration, is now speaking to the media, trying to put her in her place.
And what this McCain adviser said is that Sarah Palin is a diva. A diva who takes advice from no one. A diva who is playing for her own future.
"Remember: Divas trust only unto themselves, as they see themselves as the beginning and end of all wisdom," the adviser said.
Let's just start with the word diva. It is obviously a sexist slight -- a term that is only applied to women, almost always in a derogatory way. It's usually applied to women who are viewed as overly ambitious. It is applied to demanding women, to women who follow their own path.
There is really no equivalent word for men -- except maybe "successful."
So, with that in mind, I applaud Sarah Palin, or any other woman, for embracing her inner diva and "busting free" of what she believes is a damaging situation.
But we are going to go easy on the Helen Reddy here, because what is really pathetic about all of this is the hypocrisy.
Don't Miss
Almost from the moment Sarah Palin was announced as McCain's running mate, the McCain campaign has accused the media of sexism. And sure, in some cases, questions were raised that were sexist in nature -- much the same way that Hillary Clinton had to deal with sexism in the primary race. We are not yet a society free of sexism and this will continue to be an issue for all women candidates.

Watch CNN's Campbell Brown make her case »
But by and large, the questions raised about Sarah Palin have been about her qualifications and her experience.
So now, for the McCain campaign to attack its own candidate in the most overtly sexist way, calling her a diva, is beyond ridiculous. Whoever this anonymous adviser is should be ashamed, or at the very least, have the courage to say it on the record.
As someone who urged the McCain campaign early on to free Sarah Palin so that the American people could have the opportunity to find out who she is and whether or not she is qualified for the job, I applaud Gov. Palin for finally tossing those shackles aside.
Because Governor, if it were Mitt Romney, Joe Lieberman or Tom Ridge standing in your shoes right now, being mismanaged the way you feel you are, I can assure you they would have tapped into their inner divas and tossed those advisers aside a long time ago.
The opinions expressed in this commentary are solely those of Campbell Brown
E-mail to a friend

All About John McCain • Sarah Palin • U.S. Presidential Election