WASHINGTON (CNN) -- Alaska Sen. Ted Stevens vowed to fight his Monday conviction on federal corruption charges, a verdict he attributed to "repeated instances of prosecutorial misconduct."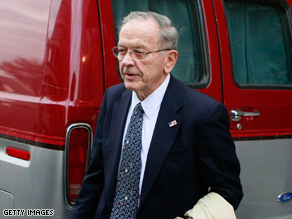 Sen. Ted Stevens leaves federal court Monday as the jury deliberated in his corruption trial.
"I will fight this unjust verdict with every ounce of energy I have," the 84-year-old Stevens, the Senate's longest-serving Republican, said in a written statement after the jury came back Monday afternoon. "I am innocent."
Stevens was convicted of seven counts of making false statements on Senate ethics forms to hide hundreds of thousands of dollars in gifts and work on his Alaska home from an oilfield contractor at the center of a corruption investigation in the state.
"This verdict is the result of the unconscionable manner in which the Justice Department lawyers conducted this trial," he said.

Watch how the trial unfolded »
The senator's lawyers twice sought to have the charges thrown out during the month-long trial, accusing prosecutors of hiding evidence favorable to the defense. U.S. District Judge Emmet Sullivan rejected those efforts, but blasted prosecutors for "hiding the ball."
"I ask that Alaskans and my Senate colleagues stand with me as I pursue my rights," Stevens said. He vowed to get the trial's results overturned and added, "I remain a candidate for the United States Senate."

Watch Alaskans sound off on Stevens »
The verdict came days before he is to face voters in a neck-and-neck re-election bid against his Democratic challenger, Mark Begich. Stevens hopes to retain the seat he has held since 1968.
A poll by Ivan Moore Research conducted October 17-19 found Begich slightly leading the race 46-45, within the poll's margin of error of plus-or-minus 4.4 percentage points.
The longest-serving Republican senator in history, Stevens becomes the first senator to be convicted of a felony since 1981.
Stevens faces a maximum sentence of up to to 35 years in prison -- five years for each of the seven counts

Watch CNN's Kelli Arena explain the verdict »
Legal experts note the judge has the discretion to give Stevens as little as no jail time and probation when he is sentenced.
He sat expressionless as the seven verdicts were read out at the end of his trial, less than a day after the jury began deliberations from scratch because of a change in jurors.
After the second guilty verdict was read, Stevens' lead defense attorney, Brendan Sullivan, patted his back, leaving his hand there.
As Stevens left the defense area, he and his wife exchanged a kiss on the cheek. Stevens said: "It's not over yet." Stevens' defense team said they will move for a new trial.
"This is a sad day for Alaska and a sad day for Sen. Stevens and his family," Alaska Gov. and Republican vice presidential candidate Sarah Palin said after the verdict.
"The verdict shines a light on the corrupting influence of the big oil service company up there in Alaska that was allowed to control too much of our state. And that control was part of the culture of corruption that I was elected to fight, and that fight must always move forward regardless of party affiliation or seniority or even past service," she said.
Stevens accepted "hundreds of thousands of dollars of freebies" from a major oil services company in his state, acting assistant Attorney General Matthew Friedrich said after the verdict.
"This company was not a charity," he said, saying it solicited Stevens for help in Washington at the same time it was transforming Stevens' single-story A-frame Alaska house into a two-story structure with a deck, new gas grill and other accouterments.
Judge Emmet Sullivan has scheduled a hearing on any pending motions for February 25.
The charges against Stevens related to renovations on his family home in Girdwood, Alaska. The remodeling was done by his longtime friend, Bill Allen, and Allen's oil industry services company, VECO Corp.
The prosecution accused Stevens of knowingly failing to declare hundreds of thousands of dollars worth of gifts and work on his house in Alaska between 1999 and 2006. Members of the Senate are required to fill out forms each year stating what gifts they have received and from whom.

Watch the prosecutor talks about 'freebies' given to Sen. Stevens. »
Stevens' defense said Allen, the senator's friend, had quashed bills without the senator's knowledge. Allen testified that he had done so because he "liked Ted."
The defense said Stevens had paid the bills he received, thinking they covered the full cost of renovating the house in Girdwood, Alaska.
Allen, the government's star witness, earlier pleaded guilty to trying to bribe a number of Alaska state lawmakers, not including Stevens. He is awaiting sentencing.
The jury began deliberations at noon Wednesday, but started anew Monday morning when an alternate replaced a juror who left town abruptly last week because of the death of her father.
The verdict comes after jurors spotted a discrepancy Monday between the government's indictment and a key piece of evidence. The judge declined to throw out the related charge against Stevens
The indictment accuses Stevens of checking "No" in response to a question about whether Stevens or his family had "any reportable gift ... more than $260" in 2001. But the form introduced as evidence in court shows he checked "Yes."
The jury sent out a note on the issue, prompting a debate between defense and prosecution attorneys about what instructions Sullivan should send the jury.
Prosecutors said the error was simply a "typo" on the indictment, and that other charges and evidence covered Steven's alleged failure to disclose the home renovations at issue in the case.
Stevens' defense said the judge should toss out the count that no longer matched the evidence.
The juror who left last week was Juror No. 4, a paralegal in her 40s. She told a U.S. marshal that she had to leave the state for a family emergency after the jury was dismissed Thursday.
Judge Sullivan dismissed the jury Friday morning after the woman left for California, hoping to resume with her on the panel as soon as possible.
Since then, court officials made several unsuccessful attempts to reach the woman. Defense attorneys for Stevens, who was in court Sunday, had asked the judge to put off deliberations another day as they awaited the return of the juror, arguing against inserting an alternate in the middle of the process.
Last week, the judge dealt with another juror issue after the panel sent him a note Thursday accusing juror No. 9 of "violent outbursts" and other misconduct. They asked that she be dismissed, but Sullivan gave what he called a "pep talk" to the 12 and told them to resume their deliberations.
E-mail to a friend

CNN's Paul Courson, Carol Cratty and Peter Hamby contributed to this report.
All About Ted Stevens • Alaska